Oh yeah, it's time for this season's Alltrue unboxing… today's post is featuring the Alltrue Summer 2021 box!
What is Alltrue?
Alltrue (formerly known as CAUSEBOX) is a quarterly subscription box specifically curated with socially conscious products for women. In each seasonal box, you'll receive various lifestyle products that are cruelty-free and sustainably made. Not only are they focused on ethical and sustainable production, but many featured brands donate a portion of proceeds to charities and/or employ local artisans. Talk about supporting a good cause!
The Subscription Box: Alltrue
Cost: $54.95 per box on a quarterly basis, or $49.95 per box with an annual subscription
What You'll Get: A seasonal curation of 6-8 products that are community-focused, ethically made, and environmentally conscious. Products will include health, beauty, fitness, wellness, apparel, and home products selected by the Alltrue team.
Ships to: The US for free, additional cost to Canada.
DEAL ALERT: Use code WELCOME20 to save 20% off your first box!
Read More: Everything You Need To Know About The Alltrue Subscription Box
How Does Alltrue Work?
Every three months, you'll receive a fully customizable box of products worth $200+. The boxes are set to ship 4x per year. You can signup as an Annual Member (pay for the year in advance, with added perks) or as a Quarterly Member (pay per box seasonally).
To sign up, first, you'll need to select a membership type. After that, you'll create an account, enter your payment information, then wait for the email announcing the upcoming season's box. At that point, you'll log in to your Alltrue account to customize your box.
Annual members can customize every product in the box. Quarterly members can customize 3 products! (More brownie points for the Annual Membership!)
After selecting your items, you will have the option to add more products to your box! For these additional items, you get to enjoy up to 70% off on 700+ curated sustainable, ethical goods in the seasonal members-only markets.
What's Inside an Alltrue Subscription Box?
Alltrue is delivered on a seasonal schedule— spring, summer, fall, and winter. Each box offers 6-8 new products that are customizable or a complete surprise, depending on your membership type and your preference. The product offerings range anywhere from wellness products, housewares, and art to jewelry, accessories, apparel, and beauty products.
One of the distinguishing features of this box is that it comes with a magazine that contains the story behind every product included. This allows you to learn about the items you're paying for and how they were sourced. Talk about shopping for a cause!
You never know what you're going to get, but you can feel confident about whatever you do get. If you sign up for the annual subscription service, you get the added flexibility to customize some of the products in your box.
Here is a peek at what's inside this season's box! Keep reading for the big reveal!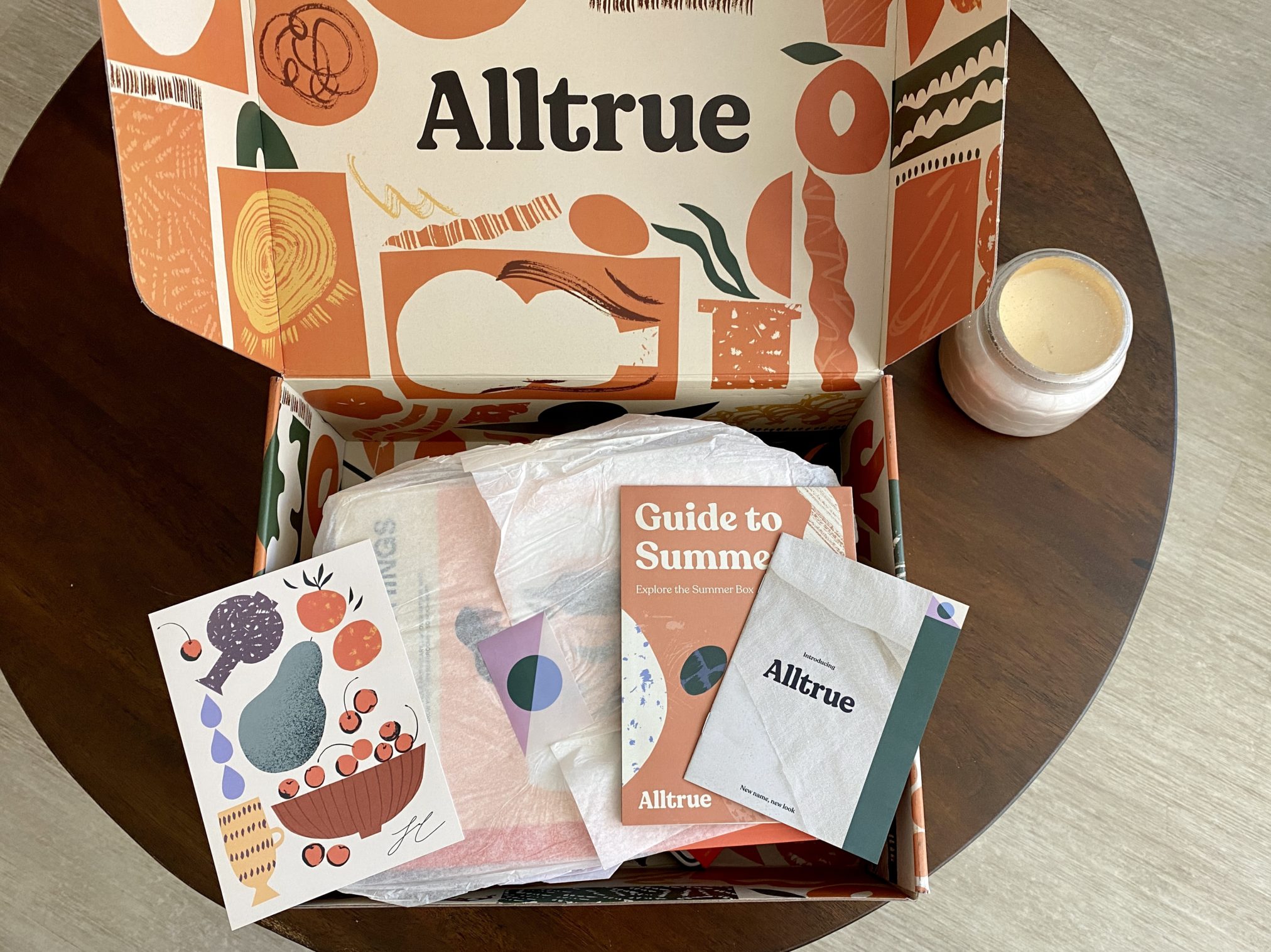 How Much Does Alltrue Cost?
If you sign up for the annual membership ($199.80) your four boxes back out to $49.95 per box. The annual subscription option requires customers to pay a one-time fee upfront. This one-time payment gets you four boxes, delivered every three months.
If that's too much of a commitment and you'd rather go with a quarterly membership, the cost of each box is $54.95. If you opt for the quarterly membership and end up getting a whole year's worth, you will end up paying $20 more than Annual Members. You can also just join as a Quarterly Member to try just the one box before deciding if you want to commit to the annual membership.
Pro Tip: If you try Alltrue out for one or two quarters and find that you're really digging the products, sign up for the annual membership! You'll be saving $5 per box, which can add up over time. I'm on my second year of receiving Alltrue and have saved $30+ so far with the annual membership.
In terms of shipping, Alltrue shipping is free in the United States, excluding Hawaii and Alaska ($7.95 shipping fee). Alltrue ships to Canada for $7.95 as well, with no additional charge for duties or taxes.
Alltrue Summer 2021 Box Review
Today, I'll be reviewing Alltrue's Summer 2021 subscription box. This season's box was the first official subscription box under the name of Alltrue. Per the brand, they have changed their name "because we needed a name that better represented our mission: to build a community that brings truth, kindness, and goodness to everything we do".
While I thought their previous name was fine (CAUSEBOX), I loved how they put so much intention behind their rebrand. Kudos to Alltrue!
DEAL ALERT: There's also a new offer to accompany the switch: NEW SUBSCRIBERS CAN RECEIVE AN INTRO BOX FOR $25.
I've been an official CAUSEBOX/Alltrue annual member since the beginning of 2020 and have been loving every minute of it (I even wish these boxes could be delivered on a monthly basis). The few last seasons, the CAUSEBOX Winter 2020 box and the Fall 2021 box, were such delights–I couldn't wait to see what Alltrue would deliver this quarter.
Let's take a peek at what's inside my Alltrue Summer 2021 box!
First Impressions: Loving the summery-ness of this season's box design!
With the rebrand, this season's content looked a bit different than previous boxes. There were some new, unfamiliar booklets/leaflets on top of the items along with a mini-magazine called ALL GOOD THINGS. The foldable leaflet contained a list of all the products in the box, with descriptions and photos. Along with the product overviews, there was even a spotlight about this season's artist, Jordan Amy Lee.
My favorite part about the leaflet? The section with all the promo codes for brands like Reduce, Golden & Pine, MYTAGALONGS, Enchante Home, Bamboozle, Coalatree, COSMEDIX, Hanalei, Way of Will, and lots more! Here's a peek at what that looks like….
Next, there was a little booklet that described a bit more about what went into the name change.
"All" – A fundamentally inclusive word — All are welcome. Bring your full self. The Alltrue community is here for you at home, with work, in life. All of it. For all women.
"True" – Truth is at the heart of everything we do. As product curators and community leaders, we find the facts and share them with you.
"Altruism" – A selfless concern for the well-being of others. We are altruists — could there be a more perfect word to describe this community?
After understanding the meaning behind the name, I felt that much happier/motivated to be an Alltrue member!
Lastly, let's get into the new magazine! Because I am an Alltrue subscriber, I got a 50-page version of their print magazine, All Good Things. There is a table of contents so you can easily navigate through the magazine. If you want the full premium edition of the magazine (100+ pages long ), you'll need to upgrade your magazine subscription.
Alright, let's get into the products themselves now!
Alltrue Summer 2021 Product #1 – Bamboozle 5-Piece Nesting Bowls
The first customization choice included this set of bamboo nesting bowls, a Manna Hydration Cooler Tote ($65 value), or an Enchante Home Indigo Round Beach Towel ($85 value). I loved the usability of all the products within Customization #1, but ultimately chose the mixing bowls and I'm so glad I did!
This has got to be my favorite product of this season's box. As you guys know, I LOVE getting home decor and kitchenware in my Alltrue boxes. This set by Bamboozle came with 5 bowls that conveniently nest within each other. Each bowl is made with sustainable materials like bamboo fiber, cornstarch, and resin so they're eco-friendly and biodegradable.
The five bamboo bowls come in a cool rainbow of hues nested together, offering utility, versatility, and aesthetics! These will work great as both mixing bowls or serving bowls. The bowls are durable and dishwasher-safe yet will break down once disposed of (how cool is that!). I also love that they came in multiple sizes because that means I can easily find one that's suitable for my needs.
Although I'm 100% keeping these for myself, I certainly think Bamboozle's sets makes a unique and useful housewarming, birthday, graduation, or wedding gift.
Pro Tip: In the leaflet, I found a 20% off coupon for all Bamboozle products, which I'm definitely going to use in the next few months with all these birthdays and housewarmings coming up!
Alltrue Summer 2021 Product #2 – COSMEDIX Bakuchiol Complete Plant-Based Retinol Alternative Serum
You guys, I was so excited to have gotten the opportunity to customize my box and select this item! We have been looking for a retinol-type product to add to our nightly skincare routine, so this Bakuchiol product came at the absolute perfect time. For those of you who are unfamiliar, Bakuchiol, one of the main ingredients of this serum, is a retinol alternative, which helps brighten the skin and improve skin tone.
On top of that, the innovative formula in this helps reduce the appearance of smooth wrinkles and uneven skin tones and boosts moisture without causing redness, dryness or irritation. The serum comes with a dropper applicator that makes it easy to dispense the product. Just drop a small amount onto your hands and apply after cleansing and toning. This was so lightweight and was easily absorbed my skin.
I cannot wait to continue using this throughout the winter because I'm so curious about whether it will help to prevent all that winter dryness I get every year.
Alltrue Summer 2021 Product #3 – Brand With a Heart OMG Leave-In Conditioner Blend
Nature and science team up to tame your mane with this leave-in conditioner. The result: Silky smooth, frizz-free, detangled, manageable locks full of body, life and radiant shine delivering both color and heat protection. Brand With a Heart has their own mega-blend cocktail they use in their products called M+, with 4 power-packed ingredients, each selected to care for your hair.
After doing some more research online, I found that this product is chock-full of superfruits including maqui berries and bamboo extract. Together, all these awesome ingredients help restore hair and keep it from drying out. The conditioner's pina colada-inspired scent is perfect for summer! Not only does it feel and smell great in my hair, but I also feel good about supporting the brand, knowing that it's cruelty-free.
Alltrue Summer 2021 Product #4 – Small Hours Traveling Cutlery Set
To be honest, because I wasn't using them very frequently in my everyday life, I had yet to switch to eliminating plastic fork/spoon usage. But I swear, I've sworn off the use of straws and plastic bags of all kinds! I'm so happy I received this because now I get to save on plastic usage with all these BBQs, camping trips, and picnics coming up.
Since they are made with stainless steel, they are easy to clean and maintain so they don't end up complicating your life while you try to do good for the world. They should also be pretty darn sturdy and last a lifetime! Inside, the utensils are also held together by an orange silicone clasp to prevent them from clinging and clanging or making a whole bunch of noise when you're on the move.
This reusable cutlery set makes a great alternative for their single-use counterparts. Another reason why I'm loving this product? It's so convenient to bring whenever I'm on the go. And look at their package messaging. I love how their mission statement is so clear and bold for all to see.
Alltrue Summer 2021 Product #5 – Hanalei Company Hawaiian SPF Lip Trio
These lip balms are going to be perfect for the summer season! This lip balm trio came in 3 different flavors: Tropical Citrus, Island Mint, and Unscented. These are great to use when heading outdoors on hikes, to festivals, or to the beach because they contain SPF 15. Yep, not a lot of people remember that you need sun protection for your lips too!
Not only is it great that they have SPF in them, but they apply nice and thick (unlike those other natural lip balms that go on and look/feel just like filmy oil). Hanalei Company's lip balms harness the power of Hawaii's native botanicals including pure kukui nut oil.
You'll also feel great about using these because they are cruelty-free and vegan-friendly. The company is also enrolled in the Leaping Bunnies program!
Final Thoughts: Alltrue Summer Box 2021
Subscription Box Expert Rating: 7/10
The first Alltrue box has a wide range of products, ranging from personal care to kitchenware to travel essentials. I didn't pick these, but some of the other products featured in this season's box include:
My favorite items from the Summer 2021 box were the COSMEDIX Serum and Bamboozle Nesting Bowl Set. I enjoyed everything I received (because I customized my entire box). However, I wasn't that impressed with the customization options during the customization period.
Here's why. Compared to their previous few seasons, these products were not as exciting to me and this was partially because I noticed that there were a few repeat items such as the COSMEDIX Serum and Way of Will Serum. I've received Way of Will's serum before but had never received the COSMEDIX serum so I welcomed it. While I love serum, I can only use so much serum in a 3-month time span! With that, I'm hoping next month there aren't a million other serum options on the menu!
On to the cost/value ratio. I'm very happy with the overall retail value of the box compared to what I paid (essentially $50/box). I mean, the nesting bowls themselves cost $50+ and are sold at spots like West Elm and Crate and Barrel. (Can you tell how much I love these bowls yet??) With that in mind, it's like everything else I received in the box was "free"!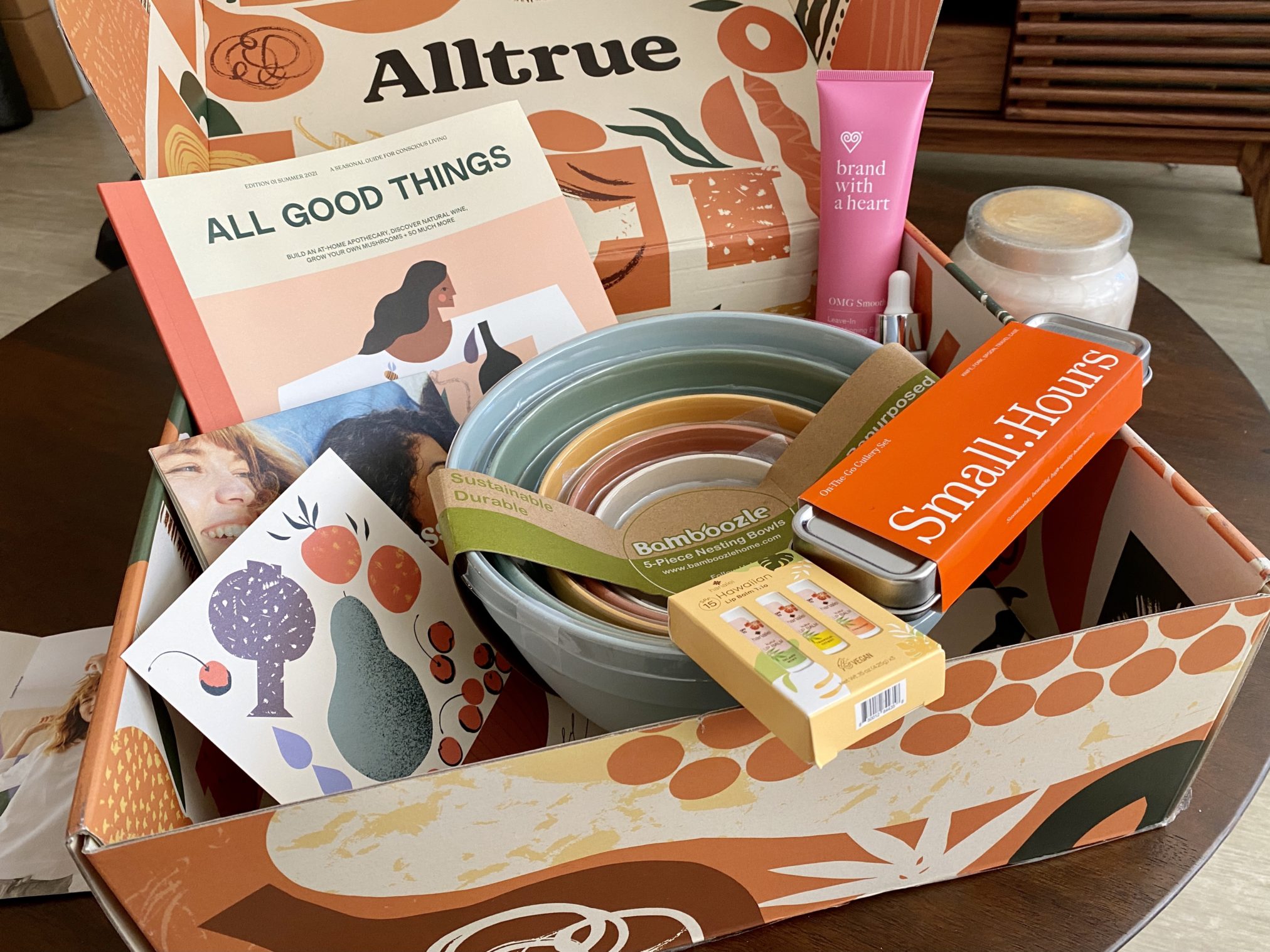 As always with Alltrue, I get really high-quality products that are not only sustainable but also have super empowering missions and stories behind them. I love how I get to read about each and every product, why exactly the Alltrue team chose that product, and what value it brings to either the workers, the business owners, or to both parties. Not only do these products make me feel good on the outside, but I also feel great knowing I'm supporting a cause. That's essentially what Alltrue is all about.
All in all, while there were some items across the board that I wasn't completely thrilled about, Alltrue made a great impression and I'm looking forward to the future boxes!
An Alltrue Subscription Is For You If…
you like products that are cruelty-free and ethically made
you want to feel good about where your money is going (Alltrue works with charities and donates to women's organizations)
you value quality over quantity of products you receive
you want to be able to customize what you get in your box every season
Considering Subscribing To Alltrue?
Alltrue (formerly known as CAUSEBOX) offers customers two subscription options: the quarterly subscription ($54.95 per box), and the annual subscription ($49.95 per box, a total of $199.80 per year). My recommendation? Go for the annual–you won't regret it.
The annual fee might seem steep for 4 boxes throughout the year, but if you consider the fact that the average box contains $150+ worth of sustainable, do-good products, this is actually quite a steal. If you're more frugal, minimalistic, and only buy what you know to be tried and true, then an Alltrue subscription might not be for you.
However, if you love trying new products, supporting ethical and socially conscious brands, and are open to discovering new lifestyle and wellness products, Alltrue is definitely a great subscription to get. We highly recommend Alltrue at Subscription Box Expert!
DEAL ALERT: Remember, use code WELCOME20 to save 20% off your first box!
---
Don't forget to check out all of our Alltrue/CAUSEBOX subscription box reviews and the best subscription boxes for women!