It's that time of year again when college students are preparing to head back to school and the holiday season is nearing.
If you have a college student in your life, you may be wondering what kind of gifts to get them. Well, we've got you covered with the perfect gift ideas for the college girls in your life!
Not only does our list feature gifts that are unique, but they're also going to be things that she'll be able to enjoy on a daily basis.
---
35 Unique Gifts For College Girls That She'll Love Everyday
Apple Watch
When it comes to picking the perfect gift for the college girl in your life, you can't go wrong with the Apple Watch Ultra. This sleek and stylish device is packed with features that any busy student will appreciate, from its fitness tracking capabilities to its built-in music player.
Plus, with a variety of different strap and case options available, the Apple Watch is sure to fit any fashion taste.
So if you're looking for a gift that's both practical and chic, make sure to put an Apple Watch at the top of your list.
Lululemon Leggings
Lululemon leggings are some of the most popular athleisurewear, like ever. All of their leggings are not only stylish and form-fitting, but they're also comfortable and perfect for working out or running errands.
Plus, they come in a variety of colors and patterns so you can find the perfect pair for your favorite girl. Trust us, she'll love these leggings, so don't be surprised when you find that she's wearing them all the time!
Our top recommendation for the utmost functionality? Lululemon's Fast and Free leggings–they've actually got pockets!
Air Pod Pros
Bluetooth headphones are a college essential and beloved item by many. If she doesn't already own a pair, Air Pod Pros are going to be a great gift that she'll use on a daily basis.
We have yet to meet anyone who's not been excited to receive these!
Fujifilm Instax Mini 11 Camera
If you're looking for a fun gift that can capture memories along the way, the Fujifilm Instax Mini 11 Camera is going to be perfect. This stylish and fun camera is perfect for capturing all of life's memories, big and small.
With its easy-to-use controls and variety of fun features, the Fujifilm Instax Mini 11 Camera is sure to be a hit with any college girl. And at under $100, it's a great gift that won't break the bank!
Essential Oil Diffuser
There are a lot of things that college girls need in order to make their dorm rooms feel like home. One of the most essential items on that list is an oil diffuser.
Not only does the Vitruvi Stone Diffuser look absolutely gorgeous and make the space smell nice, but it also has some great benefits for your health. The greatest health benefit of all? It can help reduce stress levels.
College can be a very stressful time for students. Between classes, exams, and social obligations, it can be tough to find time to relax. An oil diffuser can help to create a calm and relaxing environment in her dorm room, which can help to reduce stress levels and promote better sleep.
Crafted out of high-quality porcelain, these beautiful stone diffusers will help her diffuse essential oils throughout her home, while doubling as a stunningly simple piece of decor. It's a self-care gift and a housewarming gift all wrapped up in one awesome product. Best of all, they come in 4 different earth-tone colors.
JBL Flip Bluetooth Speaker
The JBL Flip 6 Bluetooth Speaker is perfect for any dorm room or small apartment and is sure to be a hit with any music lover.
The sound quality is amazing, and the speaker is small enough to fit in any backpack or purse. Trust us, this is one gift she'll be using all year long, whether it's in her apartment, on the beach, or simply hanging out on campus!
Portable Power Bank
If you're looking for the perfect gift for the college girl in your life who lives life on-the-go, look no further than a portable power bank.
Whether she's always out and about or just needs a little extra juice for her phone, this is a great gift that will come in handy again and again.
There are a lot of different power banks out there to choose from, so how do you know which one is right for her? First, consider how much power she'll need.
If she only uses her phone for occasional texts and calls, a smaller capacity power bank should suffice. But if she's constantly on social media or streaming videos, she'll need something with more juice.
The power banks by Anker are always sleek and stylish so they will match anyone's aesthetic perfectly.
Silk Pillowcase
Silk pillowcases are not only incredibly soft and luxurious, but they also have some amazing benefits for skin and hair.
College girls will love how silk pillowcases help to keep their skin hydrated and their hair frizz-free. Plus, they'll appreciate not having to worry about stains on their pillows!
The silk pillowcases by Blissy are among the best in the market (they come in a cute scrunchie set too), so we recommend going with this brand, commonly found at places like Nordstrom, indie lifestyle shops, and home decor shops.
BREO BOX
Great for: The gaming and tech-loving college girl.
BREO BOX brings you the hottest and latest products on the market to ensure you're living your best life. Each box features the best from name brands in tech, gadgets, home goods and lifestyle products.
The items are carefully curated based on current trends and innovations, as well as seasonality. You can expect to receive 5-8 of the best products in health, fitness, tech, and modern living.
If the college student in your life (or you for that matter) lives for new and cool technology, this is the ultimate box to get. Each box contains up to $300+ worth of gear, so it's quite a bargain!
Frequency: Quarterly
Cost: $159 per quarter, additional savings if you opt for the annual subscription.
Ships to: Ships free to the US, and $45 to Canada.
Skip a month feature: Yes
Instant Pot
We don't care what anyone says, Instant Pots are still our best friend in the kitchen. And they're especially great for college students!
The Instant Pot is a must-have for any college student. It's perfect for making quick and easy meals, and it's small enough to fit in even the smallest dorm room.
Plus, it's super affordable, so you can get one for your student without breaking the bank. Trust us, she'll love it!
Pro Tip: Be sure to pick up an Instant Pot cookbook so she has somewhere to effortlessly start.
Monos Metro Weekender Bag
The Monos Metro Duffel is a college girl's dream bag. This stylish and functional duffel is perfect for carrying all of her essentials, whether she's headed to class or hitting the gym.
The Monos Metro Duffel makes a great gift for any college girl who likes to be stylish and organized. Order yours today and make her college year even better! If you get her one of these, you can trust she'll never have to buy another weekender bag for at least a decade!
Checkered Throw Blanket
Checker print is back in style, all! This cute-as-heck checkered throw blanket is perfect for young adults because of its youthful and playful print. Plus, it comes in 8 cute colors to match her aesthetic.
Whether you're looking for a gift for your daughter, niece, or friend, a throw blanket is always a good idea. They're perfect for snuggling up on the couch or using as an extra layer when studying in the library.
Party Games
If you're looking for the perfect party board game to gift your favorite college girl, here are three of the best party games to ensure she and her friends are laughing nonstop:
What Do You Meme?: This new game has taken the internet by storm and is perfect for a group of girls who love to meme and be silly. It's sure to be a hit at any party.
Throw Throw Burrito: There's literally no other game on the market that involves competitively throwing soft burritos at each other. It's so much fun!
Scrawl: Terrible Drawings and Ridiculous Guesses: This drawing game of telephone is always a favorite among groups of friends.
For more awesome party board games, check out this post on the best party games by our game-loving friends at Land of Trivia.
Pajama Set
Because one can never have too many pairs of cozy pajamas. Here are our top picks for the best pajama sets for college girls, sure to keep her warm and comfortable in bed all year long.
Pendleton Beach Towel
Whether you're looking for a unique gift for a college student or you're in need of a beach blanket yourself, Pendleton beach towels are a great option. These towels are not only stylish and eye-catching, but they're also made from high-quality materials that are built to last.
Pendleton beach towels are available in a variety of different designs (seriously, the patterns are so colorful and unique), so you're sure to find one that the college girl in your life will love. And, because they're made from durable materials, these towels can stand up to even the most intense sun and sand sessions.
P.F. Candle Co. Teakwood & Tobacco Soy Wax Candle
P.F. Candle Co.'s best-selling soy candle in Teakwood & Tobacco is a cult-favorite among everyone I know, including us! It just smells so freaking good.
Their scents are not overwhelmingly strong and will make her new dorm or apartment smell amazing and cozy at the same time. Not to mention, they look great due to their minimalist design–perfect for that clean, simple home aesthetic!
Looking to pair this candle with another product for a college care package gift? We also highly recommend their diffusers and anything 'Amber & Moss' scented.
BONUS: We recently discovered a genius, new way to light candles. Enter the electric candle lighter–these babies solve the problem of finicky matches, lighters, and burnt fingers! Instead of using flammable fluids or friction to start a flame, electric candle lighters contain a lithium-ion battery in a slim case. Touch that little arc of heat to the candle wick and the candle will magically light!
Mighty Nest
MightyNest has an awesome monthly subscription (MightyFix) that delivers healthy, clean alternatives to commonly used goods.
Each month, you'll get one hand-picked healthy, green product that you'll be able to use in your everyday life. Products include nontoxic cleaning products, food storage, clean body care, and solutions to wean off using one-time plastic or disposable products. All products are selected to expand your impact.
Your subscription will also come with resources, support, and insights throughout the month on how to implement these small but mighty changes. For just $11/month, you'll be able to tackle one healthy change each month with green goods that are high quality, useful, and fun. The more months you subscribe for, the more good changes you'll be able to commit to!
Frequency: Monthly
Cost: $15 per month, additional savings if you opt for the annual membership.
Ships To: The US for free, additional cost to Canada and Australia.
Skip a month feature: Yes.
DEAL ALERT! Use the above link and promo code MIGHTYNOW to get your first month for only $3.
Adults & Crafts Subscription Box
Adults & Crafts is a thoughtfully curated subscription box for all types of adults & teens. With this fun and artsy subscription, she'll be able to create fun and trendy projects every month!
You can expect a different craft with each box, allowing you to expand your art skills and learn a new craft technique such as wood-burning, clockmaking, embossing, and engraving. Each project will take you about 2-4 hours, perfect for a crafty night in.
Previous projects include wine carriers, epoxy resin coasters, wine and cheese serving trays, hanging terrariums, holiday wreaths, candles, & more! This arts and crafts gift subscription is one of our go-to's for family night, friendly hangouts, and date nights.
Frequency: Monthly
Cost: $34 per month, additional savings if you prepay for 3 months, 6 months, and 12 months
Ships To: Ships to the US for $6.95, internationally for $20.
Skip a month feature: Yes.
TheraBox – Self-Care Subscription Box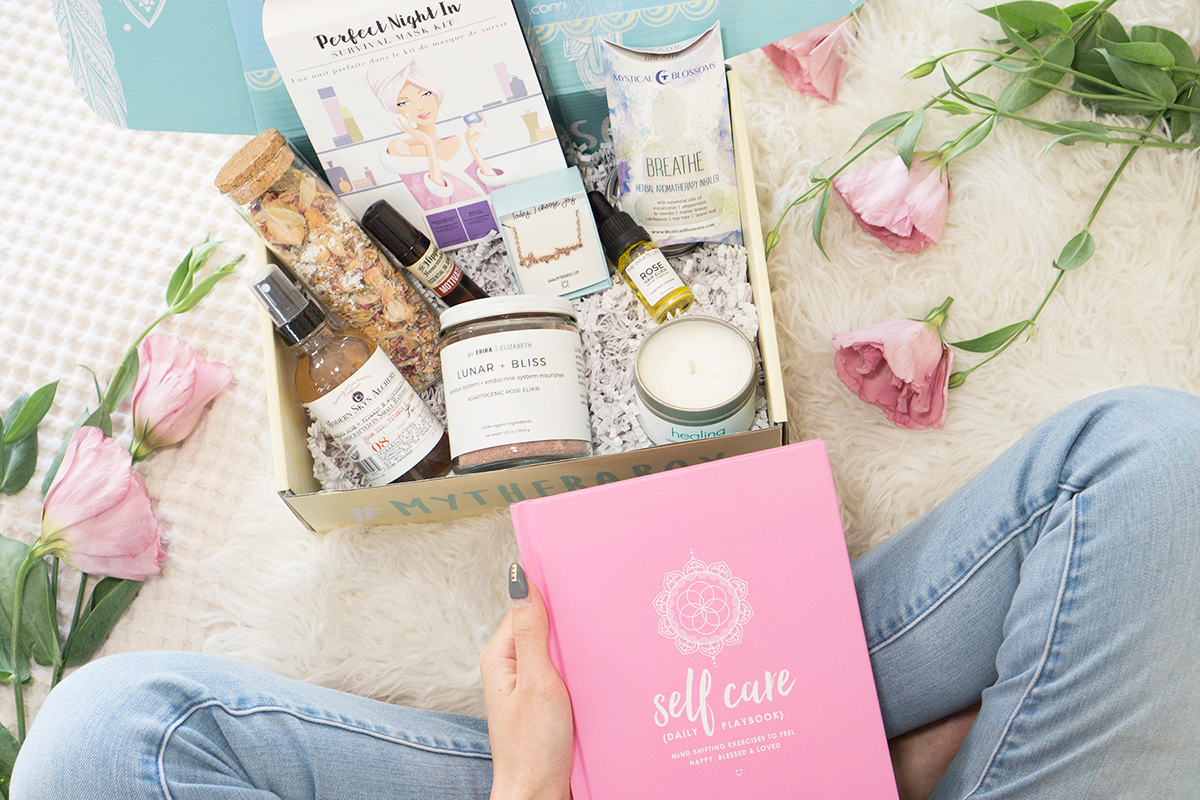 Unbox happiness on a monthly basis! This wildly popular box is one of our favorite gifts for just about anyone who appreciates a little self-care. 
TheraBox contents are mindfully curated by therapists to reduce stress & increase joy through self-love. Each box includes 1 research-inspired therapeutic activity to promote gratitude and happiness. It will also feature 6-8 self-care and wellness products that will serve to reduce stress & enhance your mind, body, and soul!
You can expect products ranging from aromatherapy, natural/organic bath, body, skincare products, and other lifestyle goodies! Each box has over $120+ retail value, so this is quite a deal for the price you're paying!
Frequency: Monthly
Cost: Plans starting at $35/month, cancel anytime
Ships to: Ships worldwide from United States
Amazon Echo
Amazon Echo is hands down one of the best gadgets for college students. Especially the ones that want everything done without having to lift a finger!
If you're looking for a gift for the college girl in your life, look no further than the Amazon Echo Dot 5th Gen. This device is perfect for students who want to stay connected and organized while they're away at school.
The Echo Dot 5th Gen comes with Alexa, a virtual assistant that can help with things like homework, studying for exams, and keeping track of important deadlines.
Plus, the Echo Dot 5th Gen is equipped with Bluetooth so she can easily connect to her smartphone or laptop and use it as a speaker. And if she needs to take her music with her on the go, she can use the built-in 3.5mm jack to connect to portable speakers.
The Bucket List: 1000 Adventures Big & Small
From glassblowing in the Czech Republic to swimming with dolphins in New Zealand, The Bucket List is the perfect gift for the passionate traveler!
This hardcover, illustrated book features around-the-world, continent-by-continent listings of the most desired treks, experiences, beaches, museums, monuments, islands, mountains, and more.
We've owned a copy of this book for about three years now, and to this day, it's still so stimulating and fun flipping through it. This book is perfect for college girls who seem to always catch the travel bug.
Finders Seekers Subscription Box
Great for: The escape room fanatic.
Finders Seekers  is a monthly "escape room" style subscription box, ideal for anyone who loves puzzles, escape rooms, solving mysteries, or anything requiring a little brainpower.
With Finders Seekers, you will experience a mystery puzzle box featuring a new destination theme each month. In addition to the puzzle/escape room experience, you'll get a mini travel experience, too, learning about different regions of the world while you solve riddles and puzzles!
Frequency: Monthly
Cost: $30 per month, additional savings when you prepay for 3, 6, or 12 months
Ships to: Free shipping, only ships within United States
Skip a month feature: Yes.
Amazon Prime Student Membership
This is just about the most practical gift idea on this list! With Prime Student, she'll get free shipping on millions of items, exclusive deals and discounts, and access to Prime Video and Music.
Plus, with a 6-month free trial, it's the perfect way to help her save time and money while she's away at school.
Pro Tip: To give her a jumpstart on picking up college essentials for her dorm or apartment, you could even pair this gift with an Amazon gift card.
PMD Clean Pro Smart Facial Cleansing Device
The PMD Clean Pro is a top-of-the-line facial cleansing device that uses sonic pulsations to deeply cleanse the skin, removing 99.5% of dirt and oil.
Your favorite college girl will love this gift because it's not only practical, but it's also luxurious. The PMD Clean Pro is made with medical-grade silicone and has a sleek, ergonomic design. Plus, it comes with a luxurious travel case, so she can take it with her on the go.
The PMD Clean Pro is the perfect gift for any college girl who wants to keep her skin looking its best. Order yours today and give her the gift of healthy, beautiful skin!
College Care Package Ideas: Below are inexpensive gift ideas that we think would be perfect in a college care package or college gift basket.
Toiletry Bag Travel Bag
Hanging travel toiletry bags are one of those perfect practical gifts for college girls. They are perfect for keeping all of your toiletries organized and in one place while you're on the go.
Plus, the hanging hook is great for keeping your bag off the ground and away from dirty surfaces.
We love the toiletry bags by BAGSMART because it has transparent sides for providing a clear overview of contents. Not to mention, they're built sturdily, making them great for overnight stays, daily use in forms, gym showers, and outdoor activities.
Face Masks
Face masks are one of the most popular beauty products on the market and make a great gift for any woman, especially a college student.
When she's not busy studying, she can practice self-care while relaxing with a set of face masks that she can share with her roommates.
There are so many different types of face masks available, so you can find one that fits your gift recipient's specific skin needs. If you ask us, we'd recommend TONYMOLY I'm Real Sheet Mask Collection over anything.
Plus, they're affordable and easy to use, making them a great gift for any budget!
This Works Sleeping Spray
Give the gift of a good night's sleep with a bottle of This Works' Deep Sleep Pillow Spray. This sleeping spray is the perfect present for anyone on your list (we've certainly gifted our fair share of this to our own friends/family)!
This luxurious spray is made with natural ingredients and helps promote a restful night's sleep. Just spritz it on your pillow before bedtime and inhale the calming scent of lavender, chamomile, and vetiver.
The college girl in your life will love this thoughtful gift that shows you care about their well-being.
Felt Letter Board
If you're looking to compile a college care package for the college girl in your life, a felt letter board is a unique addition.
This fun and trendy accessory is perfect for spicing up any dorm room or apartment. She can compile a welcome message for her apartment, or change it up on a daily basis to communicate with her roomies.
Plus, it's great for social media pictures! It's a fun way to keep friends and family updated on what's going on in her life.
Blue Light Glasses
Given that students spend so much time on their computers, a set of blue light glasses is a must.
These stylish and functional glasses help to reduce eye strain and fatigue, making them ideal for students who are spending long hours studying.
Not only do blue light glasses make a great gift, but they also make for a very affordable gift. You can find a variety of styles and prices to suit any budget, so you're sure to find the perfect pair for your favorite college student.
Cropped Workout Tank Tops
Workout tank tops are perfect for hitting the gym or going on a run. They're also great for layering under jackets and sweaters when the weather starts to cool down.
CRZ YOGA Pima Cotton Cropped Tank Tops are so comfortable and breezy, making them perfect for her gym days. They come in a variety of colors and styles, so you're sure to find one that your college student will love.
Plus, the cropped cut makes them super stylish so she can actually wear these out on normal days too!
Capri Blue Candle in Volcano
No lie, we absolutely adore Capri Blue candles, especially Volcano, their signature scent. Volcano is an energizing blend of exotic citrus and sugary notes.
Feeling like you're in a tropical paradise doesn't have to include flying miles away! The scents of all of their candles are simply divine and will transport her to her best tropical dreams.
Capri Blue also has equally amazing diffusers, too!
Goddess Provisions Box
If you know that college girl who loves astrology, horoscopes, or all thing spiritual, a Goddess Provisions subscription will be the perfect gift.
These subscription boxes are curated to nurture your inner goddess and help grow your spiritual practice.
Each box contains 5-7 full-size products with a total retail value of $80-$100. All the products inside are vegan, cruelty-free, and natural. You can expect a mix of crystals, aromatherapy, natural beauty products, superfood snacks & spiritual tools.
Frequency: Monthly
Cost: Plans starting at $28/month, cancel anytime
Ships to: Ships within the US for free.
Laptop Stickers
A cute set of stickers that she can stick wherever she wants is a great addition to any college care package.
College students are always on the go! They are constantly running to and from classes, meetings, and social events. And, of course, they always need their trusty laptops and water bottles by their side. That's why these laptop and water bottle stickers make the perfect gift for busy college girls!
These stickers are not only stylish and trendy, but they also help to keep laptops and water bottles safe from scratches. And best of all, these stickers make great gifts for their friends too!
Toilet Paper
Last but definitely not least, yes, a huge pack of toilet paper. Because who couldn't use more toilet paper? Not only is this a unique gift (you'll be the only one to get her this, that's for sure!), but it's also extremely practical.
Perfect for that extremely practical college girl who doesn't like nonsensical gifts or clutter!
---
The best gifts for college girls are those that are both useful and personal. A gift that can help with the transition to college life, like a new set of headphones or an at-home virtual assistant, is always appreciated.
We hope you were able to find a gift from our list that the college girl in your life will love. Whatever you choose, make sure it comes from the heart!
Other Posts You May Like:
20+ Best Self Care Gifts To Give Everyone This Year
35 Best Subscription Boxes For Teens In 2022
15+ DIY Baking Gift Basket Ideas Perfect For All Bakers
The 15 Best Subscription Boxes For Arts and Crafts and DIY Projects
It's been a tough couple of years, and we're likely all feeling it. Instead of…