Bokksu is a Japanese snack box experience, unlike any other Japanese snack box on the market today. It offers premium Japanese snacks made by artisanal snackmakers and really does provide a whole tasting experience, but is Bokksu worth the money?
Read our Bokksu review to discover what we like and don't like about this box and ultimately decide for yourself if it's worth the money or not.
---
WHAT IS BOKKSU?
Bokksu is a monthly snack subscription box that specializes in premium Japanese snacks that you can't find at your local market.
A monthly subscription to Bokksu will take you on a gourmet journey through Japan. Imagine getting the best goodies from Japan delivered straight to your doorstep, including Hokkaido white chocolate butter cookies and hand-ground matcha from Kyoto. Each box is curated around a cultural theme, with really fun past box themes such as Seasons of Japan, Snowy Hokkaido, Moon Festival, and Fireworks Festival.
The best part is, they source their products directly from local makers in Japan so you won't be able to find these snacks in regular grocery stores! 
What You'll Get: 20-25 Japanese snacks with a tea pairing, all centered around a monthly cultural theme
Frequency: Monthly
Cost: Starting at $49.95 per month, additional savings if you prepay for 3, 6, or 12 months.
Ships to: Free shipping worldwide from Japan.
Skip a month feature: Yes.
Click here to subscribe.
---
BOKKSU PROS AND CONS
What we like
An extensive variety of snacks per box (20-24 items)
Features only premium snacks
Comes with a side of tea and education on Japanese culture
Snacks are well-packaged and presented beautifully
Japanese Kit Kats are featured on occasion
Over 18,000 ratings with a 5/5 rating
Easy to cancel subscription online
What we didn't like
Higher cost than other snack subscription boxes
Some boxes may comes with an item similar to another in a previous box
---
WHAT IS INCLUDED IN A BOKKSU SUBSCRIPTION?
In addition to the many snacks you'll get as part of your monthly Bokksu premium snacks box, you will also get access to a few Bokksu-related perks.
Each beautifully-packaged Bokksu snack box includes a variety of authentic Japanese snacks, a tea pairing, and a 16-page booklet filled with a ton of good information including details on your snacks.
Your membership will also place you into a tier (ranging from Silver to Diamond). The higher the tier, the more points you'll earn for every dollar spent in the Bokksu Market. You'll also get an Active Member Discount which ranges from 5% to 15% off in the Market.
You'll also gain Bokksu Loyalty points, which can be redeemed on rewards exclusive to Bokksu Loyalty. With each subsequent shipment, you'll earn another 100 points. Below is a snippet of what types of rewards exist:
If it's your first time ordering Bokksu, they will start you off with its "Seasons of Japan" box. It's packed with the best-selling snacks Japan has to offer that perfectly depict the four seasons of the country. This is the one we are reviewing today!
Each month after, your Bokksu box will have a different theme to help you explore the regions, flavors, and traditions of Japan. Just like your first box, these boxes will be curated with hard-to-find items that aren't readily available at your local market.
---
BOKKSU SNACK BOX: UNBOXING AND REVIEW
BOKKSU MONTH 1: SEASONS OF JAPAN
Upon opening the box, I was greeted with a couple of beautiful papers/packets. The first was a welcome card and the second was a Bokksu Culture Guide.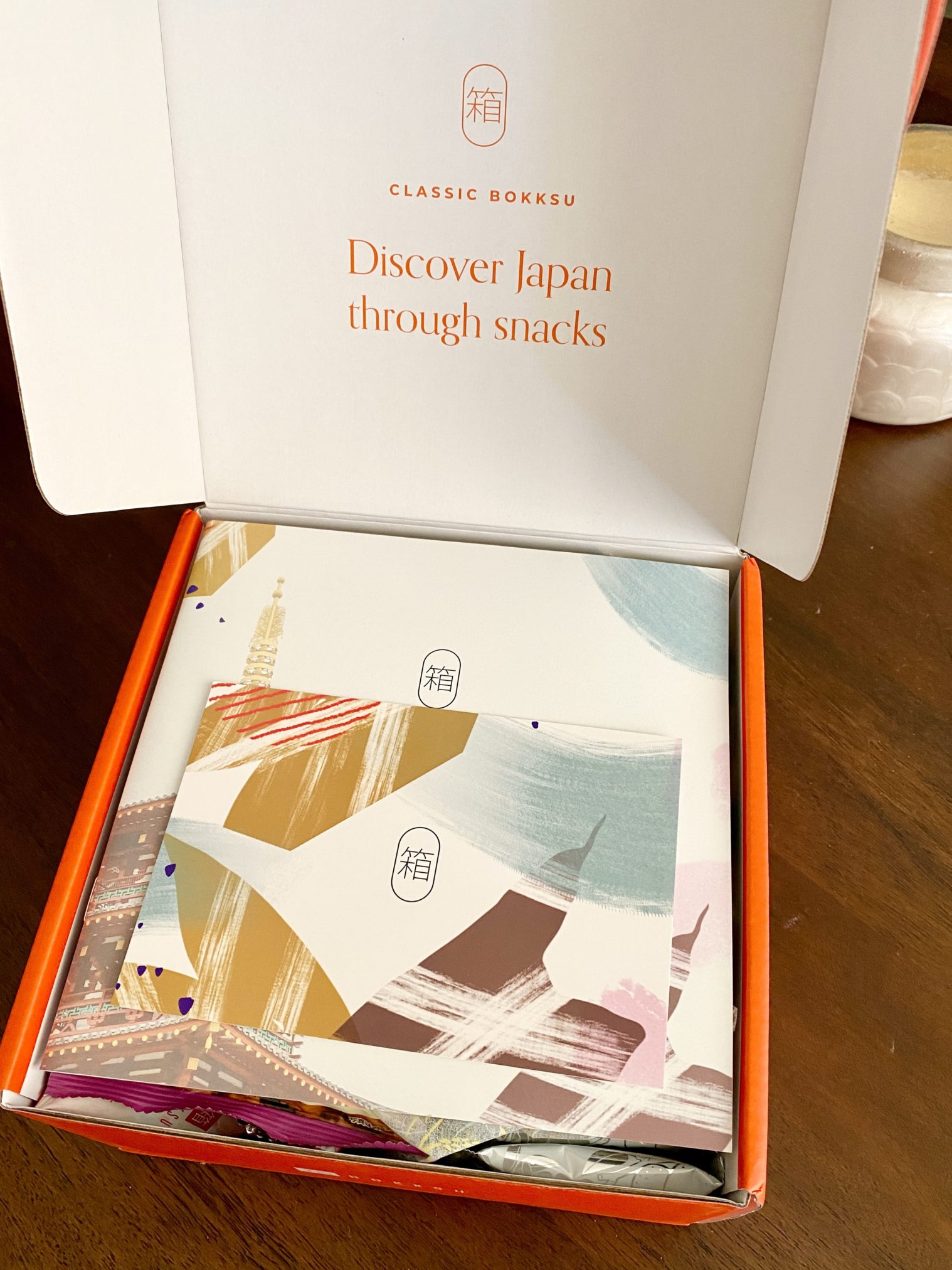 The postcard contained a short letter of introduction from their founder, Danny Taing. This month's box was called "Seasons of Japan." With that, all of the snacks in the box represented the "culturally rich regions and seasons of Japan."
Up next is the Bokksu Culture Guide. This mini booklet is filled with a ton of good information including details about the snacks in the box (including allergen info), introductions and backstories to some of the snack makers, a map illustrating where the snacks come from, and additional tidbits about the theme and Japan.
I have such fond memories about all my previous trips to Japan, so getting the opportunity to learn more about their culture triggered nothing but nostalgia and happiness inside me!
In just flipping through the booklet, I was already so excited to unbox the rest. What I love about the box already is that it's not just a box of random snacks you eat mindlessly. Each snack is intentionally chosen and detailed in the booklet, which already shows how much care the Bokksu team has put into choosing these snacks for us.
And with that, let's move on to the snacks themselves!
As soon as I started taking the snacks out of the box, I was actually shocked at how neverending it looked. There were layers upon layers of different snacks in this box, and all of it was packed to perfection, no smushed or cracked snacks at all!
(This is a big deal to me because I've tried other snack subscription boxes where I've received crushed snacks–there is nothing sadder than the sight of delicate French gavotte crisps smashed to smithereens… )
As you can see, some of the snacks came in a 2-pack while others came with just one. For the most part, the snacks that came in a single pack were large enough to share (such as the Seaweed Tempura Chips and Koikeya Minit's Stick Potato crisps).
What was cool was that there was a section of the booklet dedicated to each of the seasons of Japan. This created a really cohesive tasting experience because I could place the snack's flavors with the proper season it's from.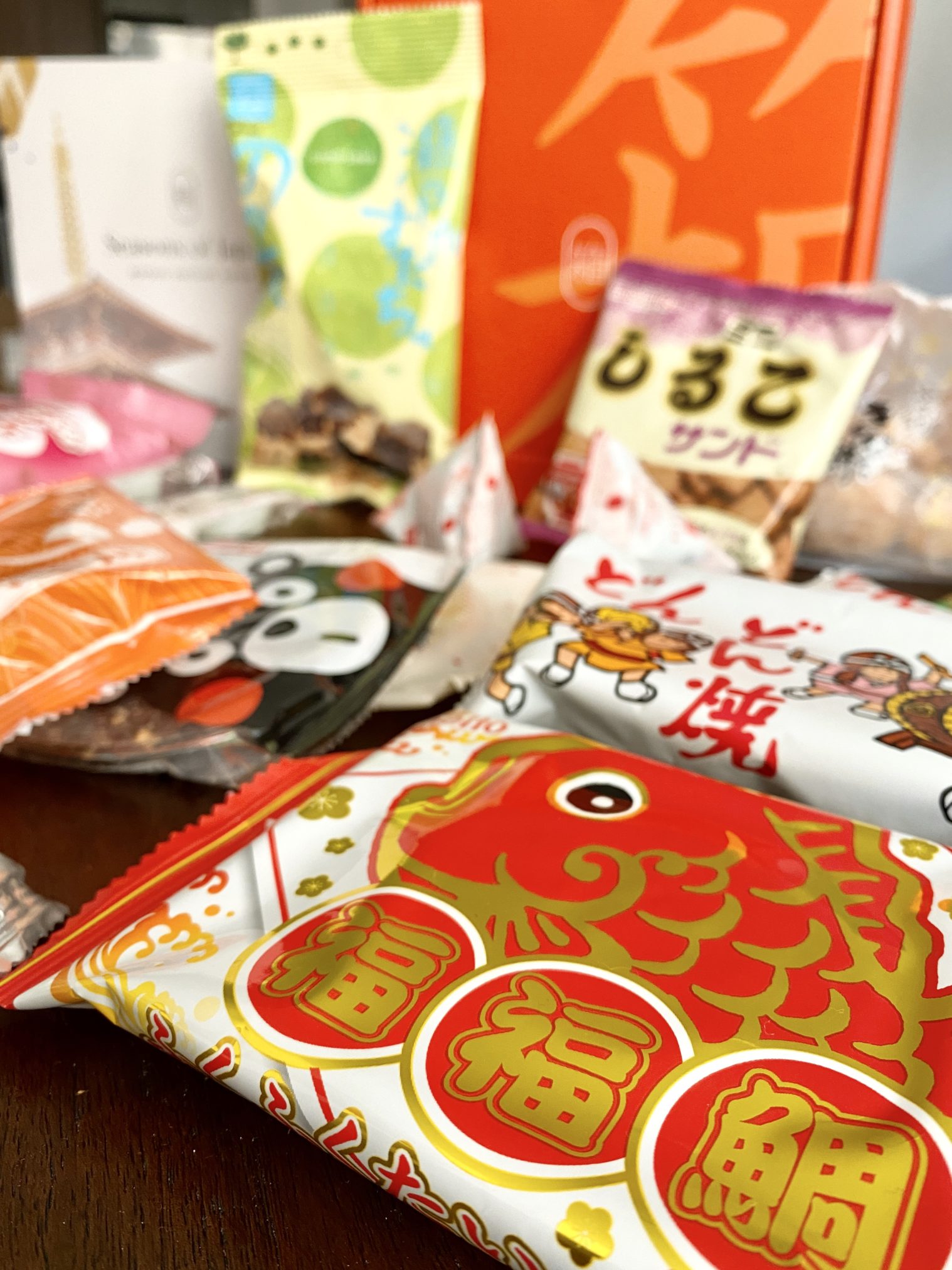 Having grown up in a Chinese household where Chinese/Japanese snacks were very common, I was pleasantly surprised to find that I had not tried any of these snack brands before. Better yet, I had never even seen any of these at the Japanese markets I had been to in the US!
All in all, it actually took us about 5 days to finish all the snacks included in the box. We were doing casual snacking each day, as opposed to completely filling up on snacks in one day.
Japanese snacks are some of our favorite snacks (we especially love rice crackers of all kinds), so it was a complete joy opening up each and every one of these snacks while getting to learn about where they came from.
From the "Seasons of Japan" box, some standout items include:
Black Sesame Taiko – I am a sucker for anything black sesame and this baby was bursting with nutty and sweet flavor.
Funwari Meijin Mochi Puffs – I love how they were able to successfuly transform mochi into a puff with such crisp and airy texture.
Dondon Yaki – Delicious savory flavor based on tonkatsu that is equal parts tangy, peppery, and sweet.
Yuzu Sake Candy – These were made exclusively for Bokksu, which means we definitely won't find them at our local market!
BOKKSU MONTH 2: KANTO NEW YEAR
Here's a peek at what I received during my second month with Bokksu. This month's theme was Kanto New Year!
VERDICT: Lots of new snacks to try during my second month of Bokksu! Absolutely no overlaps in snacks from Month 1 which is awesome!
My favorite from my second Bokksu? Those cheese puffs… they tasted magical and I'm still unsure how they were able to achieve such a puffy texture!
---
THE BOTTOM LINE: IS BOKKSU WORTH THE MONEY?
Bottom Line: This box was a complete pleasure to explore from start to end and I'm so glad I subscribed for a few months to try it out. Absolutely no regrets here! If you want to gift (or enjoy for yourself) an entire tasting experience of very unique snacks that are hard to find anywhere else other than Japan, Bokksu is 100% worth it!
In terms of the flavor of the snacks, I found my favorites to be the yuzu sake candies, black sesame taiko, and the dondon yaki. In total, I'd say 90% of them were very tasty and 10% of them were just okay.
In terms of value, considering that the box cost $49.95 and I received 20 items, the breakdown cost of each snack was $2.50 each. You might think, "wait, $2.50 is a lot for one snack item, I could get cheaper snacks locally!"
But one important thing to call out is that Japanese people take their snack-making seriously, unlike in the USA where they are often sugar-laden calorie bombs meant to keep customers wanting more / spending money on cheaply produced snacks.
In addition to that, you're not just paying for a box of snacks. You're paying for the entire gourmet snack-tasting experience–that includes taking the time to read the booklet and perhaps even sampling everything with friends and family members. If you consider that food tours abroad cost well above $50 per person, this subscription really isn't all that expensive.
PRO TIP: Bokksu provides a pretty steep discount for longer subscriptions. While the month-to-month cost is $49.95 per box, a 3-month commitment drops the price down to $44.95 per box, a 6-month commitment is $42.95 per box, and a 12-month commitment is $39.95 per box.
In true Japanese fashion, the snacks in this box did not feel overpowering in taste, and almost all of them had complex flavors mixing sweet, salty, and umami! What I noticed is that they don't just rely on producing intense single-layered flavors. Instead, they use multiple layers in their candies and snacks to deliver multiple layers of flavor for your tastebuds to explore.
I also loved how different the flavors are from American snacks. Instead of expecting basic flavors like cheese, sour cream and onion, caramel, and chocolate, you're going to be getting flavors that are less well-known worldwide such as cherry blossom, matcha, Asian pear, white strawberry, caramel apple, black sesame, edamame, red bean, banana, yuzu, uni (sea urchin), chestnut, and more.
Being Asian-American myself and already well-versed in Asian flavors and textures, I was still super impressed with the fun and interesting flavors Bokksu delivered.
Again, I found the booklet that came with the box to be very informational and fun to read. Overall, it really elevated my unboxing experience.
Being able to learn about the artisans and snackmakers while sampling the treats really adds to the overall experience and makes it feel like a snack tasting class or tour vs. just a box of snacks to get you through the month.
While each monthly box does cost a pretty penny (considering that you'll eat everything up and have nothing physical to show for it), I would say the overall experience that Bokksu provides is worth the money.
Not only are you getting to sample premium and authentic snacks from various parts of Japan, but you also get to learn so much about the country of Japan and its culture while enjoying these treats.
While I don't think I'll be keeping my subscription going for myself (only because I'm not the biggest snacker and would find myself struggling to keep up with the snack-eating before the next box arrives), I do think this is an awesome gift for people who have an appreciation for Japanese culture and/or artisanal snacks.
It really is such a unique gift to give others!
I especially love the approach they are taking–preserving the traditions of Japan and educating the world about them along the way! I love that Bokksu helps bring light to local Japanese snackmakers and the good work they do to bring smiles to people's faces.
After having discovered this subscription box this year, Bokksu is now hands-down one of our favorite snack subscription boxes to gift coworkers, friends, and family members!
---
BOKKSU ALTERNATIVES
While Bokksu does not have any direct competitors that offer a completely similar product, here are a few options that I think come close in terms of experience.
Sakuraco Box
With a subscription to Sakuraco, you'll receive authentic Japanese snacks, tea, sweets, and home goods on a monthly basis hand selected by in-house experts that represent a seasonal or cultural theme.
With Sakuraco, you'll get to experience traditional and artisanal flavors from Japan. While Tokyo Treat delivers snacks better suited for the whole family, Sakuraco's snacks are more gourmet and artisanal.
Every month, you'll receive 15-20 authentic Japanese snacks & candy, including Japanese tea, traditional snacks (like mochi, manju, and yokan), Japanese cakes, and even Japanese home goods!
Both Sakuraco and Bokksu deliver beautiful boxes worldwide and feature Culture Guides that pair with the snack boxes. However, Sakuraco is a bit more affordable than Bokksu (while providing the same quality snacks)!
Frequency: Monthly
Cost: Subscriptions starting at $32.50 per month, additional savings are from committing to 3-12 months
Ships to: Worldwide; shipping costs extra.
Click here to subscribe.
Tokyo Treat
If you're looking for a Japanese snack subscription box better suited for the whole family (especially the kiddos), Tokyo Treat is a better option than Bokksu.
Tokyo Treat is a monthly subscription box that delivers a unique and hard-to-find selection of Japanese snacks, candy, and other treats straight from Japan–right to your doorstep!
With each box, you can expect a whopping 15-20 full-size Japanese snacks. The boxes typically include a mix of sweet and savory items, such as candy, cookies, chocolate, ramen, rice crackers, chips, mochi, and even Japan-exclusive and seasonal KitKats. Tell me, who doesn't love Japanese KitKats?
Each box is curated to showcase a variety of popular and unique food items from Japan and is paired with a fun 24-page Culture Guide, giving subscribers the opportunity to discover their new favorite treats while learning more about Japanese culture.
Frequency: Monthly
Cost: $37.50 USD for the month-to-month plan, but as low as $32.50 USD for longer commitments.
Ships To: Ships worldwide from Japan
Skip a month feature: Yes.
Click here to subscribe.
Japan Crate
About This Box: Japan Crate is a brand on a mission to help you recreate the excitement of exploring Japan through everything Japan. They offer five different crates to help you experience Japan through multiple products. The Japan Crate Original is packed to the brim with candy bars, drinks, cookies, and other sweet treats. It's curated to provide a delightful and curious experience for subscribers.
The Original is the closest thing to Bokksu, while the other versions offer something different but equally as cool! One thing to note is that Japan Crate focuses on the country's sweets selection, while Bokksu also mixes in savory snacks too.
Japan Crate Original features exclusive Japanese candies and comes in three sizes: Mini, Original, and Premium.
Doki Doki is the ultimate crate for all things cute and Kawaii.
Umai Crate features premium instant noodles straight from Japan.
Gacha Gacha Crate is filled with collectable roulette capsule toys made in Japan.
Inku Crate is filled with 6-8 Japanese stationery items ranging from notebooks & planners to pens, markers, fun accessories and more.
Frequency: Monthly
Cost: Plans start at $33.45 per month
Ships To: Ships worldwide from United States except for select countries
Skip a month feature: Yes.
Click here to subscribe to any of the above boxes.
SeoulBox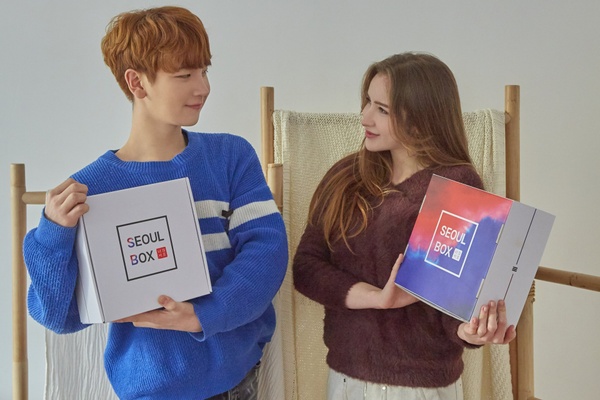 About This Box: This lifestyle/snack box is a monthly subscription that will provide you with an authentic journey to Korea. You can find the perfect blend of snack and tasty food along with a mix of amazing K-Pop and K-Beauty items. Every month, the Seoulteam selects a new theme revealing an epic slice of Korea!
In Seoulbox Signature, you'll get 18 authentic Korean goodies including 1 K-Beauty treat, 1-2 K-Pop merch, 1-2 Korean lifestyle items and the Seoulzine, the mini-magazine that comes along with every box.
Frequency: Monthly
Cost: Plans start at $35 per month
Ships To: Ships worldwide from South Korea except for select countries
Skip a month feature: Yes.
Click here to subscribe.
Explore Local Box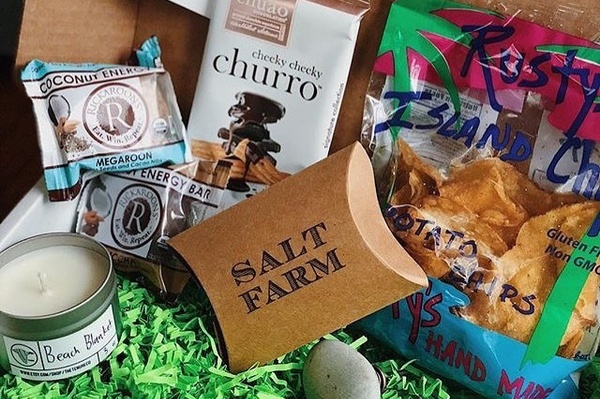 This snack subscription box is so creative and fun, especially for people who are cooped up at home but have a travel bug that never really goes away. With Explore Local Box, you can explore a new US city every month through premium, locally made food products! Boxes include food items as well as non-food items that are locally produced by small businesses and local artisans from the featured month's city. You'll also get a watercolor map as well as fun facts about the featured city.
Previous cities include Albuquerque, NM, Chicago, IL, Brooklyn, NY, Portland, OR, and way more. They also have separate gift subscriptions, perfect for all the travelers and adventure seekers you know!
Frequency: Monthly
Cost: $39.99/month, additional savings if you prepay for 3, 6, or 12 months.
Ships to: Free shipping across the United States
Click here to subscribe.
---
We hope you enjoyed our Bokksu Snack Subscription Box Review! If you're looking for additional snack subscription boxes to try out, check out the complete list of our favorites here. You may also like:
Before you go, stay in the know! Be sure to subscribe to our monthly newsletter to gain access to exclusive subscription box deals, promos, and spoilers that are too good to publish online!