This post may contain affiliate links. This means we may receive a small commission, at no extra cost to you, if you make a purchase through one of our links. Read the full disclosure here.
Are you looking for a good congratulations gift for a pregnancy? A unique gift for your expecting wife or partner? Maybe you're looking for a gift for a friend that's expecting and having a baby shower?
Sure, you can gift her something for her baby, but what about also something specifically for her and her personal wellness? She should be pampered and shown love during the many months she's carrying her new baby, too! No matter what the occasion, we have some of the most unique gift ideas for new moms.
Here is our list of the best gifts for new moms and expecting mothers.
Best Gifts For New Moms and Expecting Mothers
TheraBox – Self Care Subscription Box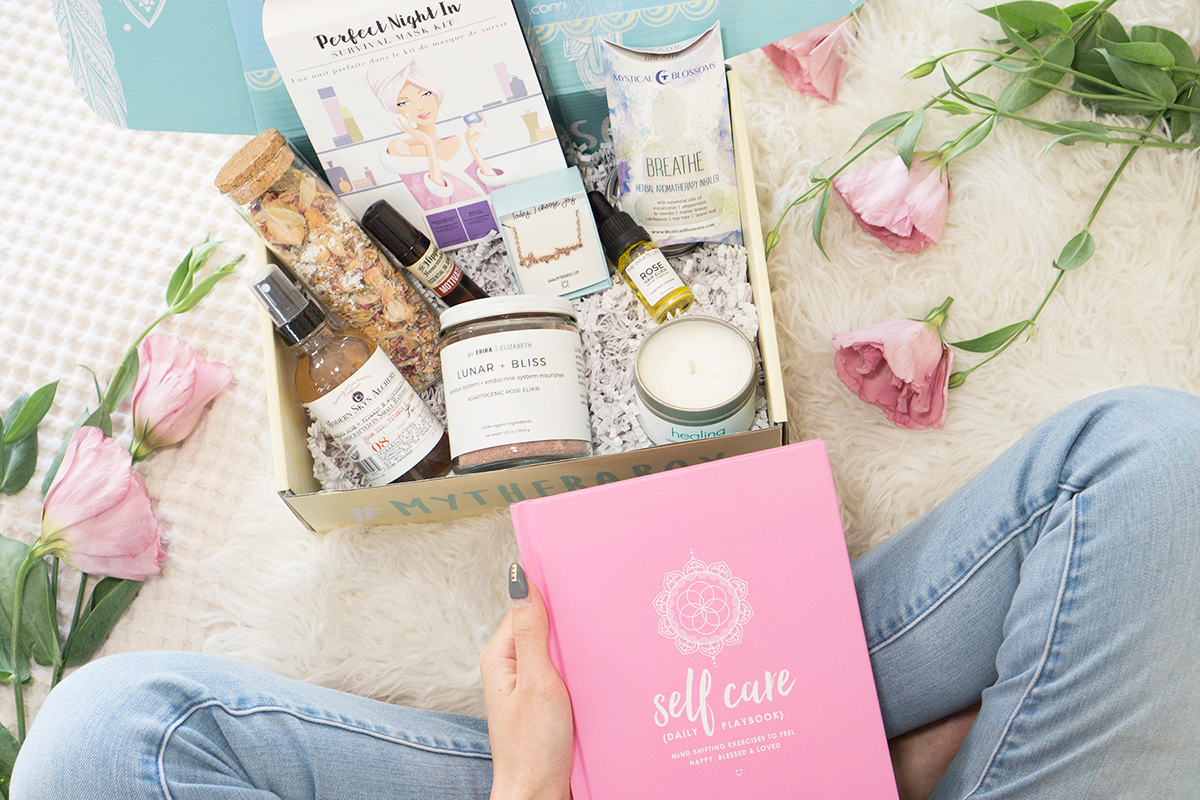 Unbox happiness on a monthly basis! This wildly popular box is one of our favorite gifts for expecting moms. TheraBox contents are mindfully curated by therapists to reduce stress & increase joy through self-love. Each box includes 1 research-inspired therapeutic activity to promote gratitude and happiness. It will also feature 6-8 self-care and wellness products that will serve to reduce stress & enhance her mind, body, and soul! She can expect products ranging from aromatherapy, natural/organic bath, body, skincare products, and other lifestyle goodies!
Each box has over $120+ retail value, so this is quite a deal for the price you're paying!
Frequency: Monthly
Cost: Plans starting at $30.99/month, cancel anytime
Ships to: Ships worldwide from United States
Click here to subscribe.
HopeBox
HopeBox is literally the gift of comfort and love! This box features books, aromatherapy, jewelry, candles, snuggle buddies, organic soaks, scrubs, masks, and more. The coolest thing about the products is that they're sourced from talented artisans, all of whom have their own inspiring stories of hope and renewal. Each self-care product is full-sized, vegan, and cruelty-free. You can choose between the Hopebox Light (6+ items, retail value $65+), Hopebox (10+ items, retail value $115+), and the Hopechest (15+ items, retail value $165+).
Frequency: Monthly
Cost: Plans starting at $43.99/month, cancel anytime
Ships to: Ships within the US
Click here to subscribe.
Goddess Provisions Box
If you know that new mom who loves astrology, horoscopes, or all thing spiritual, a Goddess Provisions subscription will be the perfect gift. These subscription boxes are curated to nurture your inner goddess and help grow your spiritual practice. Each box contains 5-7 full-size products with a total retail value of $80-$100. All the products inside are vegan, cruelty-free, and natural. You can expect a mix of crystals, aromatherapy, natural beauty products, superfood snacks & spiritual tools.
Frequency: Monthly
Cost: Plans starting at $28/month, cancel anytime
Ships to: Ships within the US for free
Click here to subscribe.
Mom Things
Mom Things is a fun, bi-monthly subscription box designed to make mothers and pregnant women feel special in the midst of a busy life. You may find things for pampering, something practical, something for your purse, and even something giftable! These boxes are designed to simply make her feel fabulous even when she's at home. She can expect 5+ high-quality products inside in each box, with previous products including reusable water bottles, candles, jewelry, makeup, kitchen goods, home decor, sunglasses, and more.
Frequency: Bimonthly
Cost: Plans starting at $34.99/month
Ships to: Ships free in the US
Click here to subscribe.
Oh Baby Boxes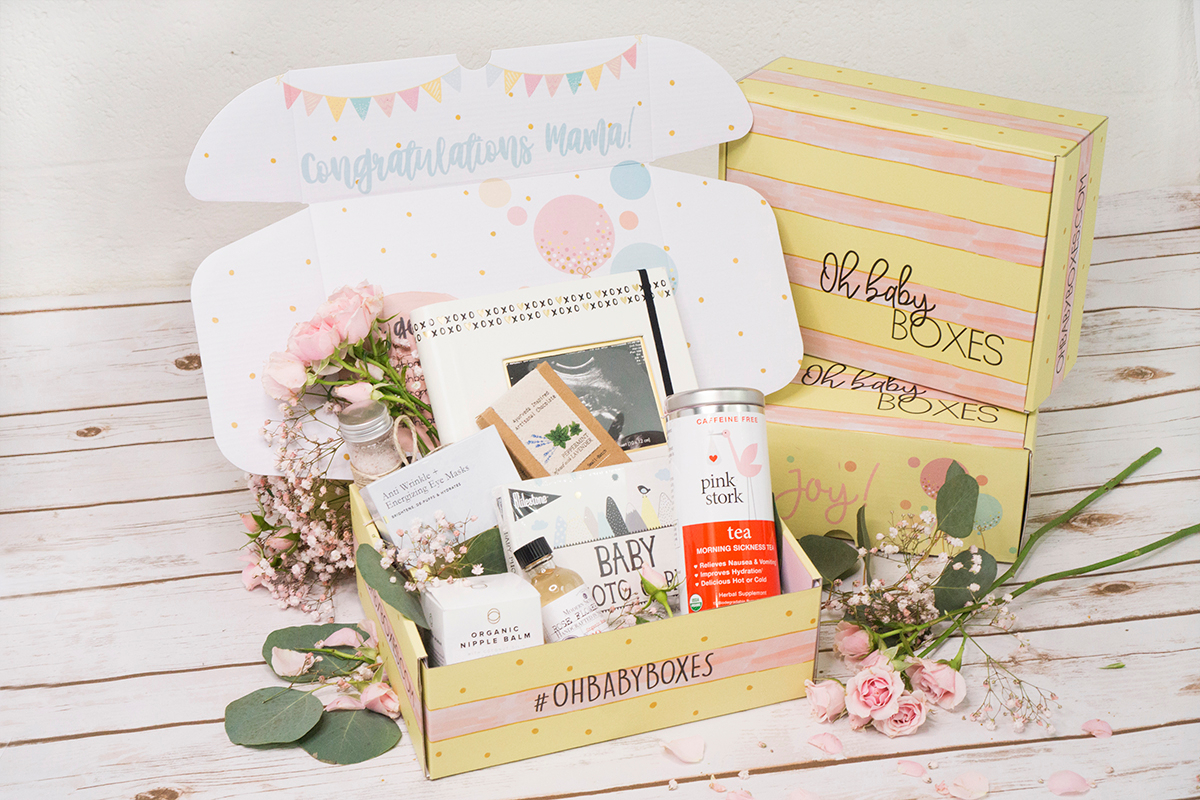 The Oh Baby Box is one of the ultimate pregnancy lifestyle boxes on the market–it's loved by both mothers and expecting mothers alike. Each month's box is filled with healthy & fun products tailored to her due date and how far along she is! She can expect 6-8 full-size products to promote a healthy & relaxed pregnancy and postpartum experience. Goodies range from wellness, skincare, maternity fashion, and other unique lifestyle products. After birth, she will begin to receive postpartum boxes to ease her transition. Products will always be pregnancy-safe and will be of high-quality (organic, natural, artisan, and holistic products). Each Oh Baby Box contains over $100 in retail value!
Frequency: Monthly
Cost: Plans starting at $39.99/month
Ships to: Ships worldwide + free shipping in the US
Click here to subscribe.
Gift Wander Beauty Baggage Claim Eye Masks
Treat her to a soothing at-home treatment for tired eyes. These gold foil eye masks will brighten, hydrate, and reduce the appearance of dark circles and wrinkles around the eyes. Best of all, they won't fall off like some sheet masks, so she can multitask all the while she's pampering herself. These under eye masks are award-winning, cruelty-free, and vegan!
Vitruvi Stone Diffuser
The Vitruvi Diffuser is absolutely gorgeous. Crafted out of high-quality porcelain, these beautiful stone diffusers will help her diffuse essential oils throughout her home, while doubling as a stunningly simple piece of decor. It's a self-care gift and a housewarming gift all wrapped up in one awesome product. Best of all, they come in 4 different earth tone colors.
Capri Blue Candle in Volcano
No lie, we absolutely adore Capri Blue candles, especially Volcano, their signature scent. Volcano is an energizing blend of exotic citrus and sugary notes. Feeling like you're in a tropical paradise doesn't have to include flying miles away! The scents of all of their candles are simply divine and will transport her to her best tropical dreams. Capri Blue also has equally amazing diffusers, too!
BONUS: We recently discovered a genius, new way to light candles. Enter the electric candle lighter–these babies solve the problem of finicky matches, lighters, and burnt fingers! Instead of using flammable fluids or friction to start a flame, electric candle lighters contain a lithium-ion battery in a slim case. He'll just have to click it and get a small electrical arc of heat. Touch that to the candle wick and the candle will magically light!
Buy Now on Amazon
Mom's One Line a Day
Capture the everyday moments of motherhood with a quick and easy to maintain 5-year baby journal and memory book. We love that all it asks for is just a few lines per day. This really takes the pressure off of 'journaling' and will allow her to simply jot down a few quick thoughts, memories, or milestones from the day. The fact that the daily entries are sweet and to the point makes it easy to write in daily! This is a thoughtful and affordable addition to any care package or gift basket for that mom-to-be in your life!
Mommy's First Milestones Wine Bottle Labels
What's a Mommy Milestone exactly? Well, these wine labels say it all, featuring funny occasions like "Public Temper Tantrum" and "Girls Night Out". These Milestone Wine Bottle Labels are such a great addition to a personalized gift. If you're aiming to gift her a few bottles of wine for her post-pregnancy consumption, definitely consider adding Mommy's First Milestones Wine Bottle labels to a few of her favorite bottles of wine or spirits! With these fun labels, you can really create an impressive milestone gift basket with a personal touch!
Jade Stone Facial Roller
We could all use a facial massage, but tired moms especially! This jade facial roller and gua sha set can be used on all skin types to help improve circulation and reduce the puffiness that comes with sleep deprivation. She'll get some muscle tension relief and lymphatic drainage to help her skin look fresher and lifted.
Luxury Waffle Weave Spa Robe
If you want her to feel like she's truly living a spa vacation, she's gotta look the part! What better way to do that than with a luxury waffle weave bathrobe that feels great against the skin? From our experience, robes made of 100% Egyptian and Turkish cotton make us feel the most at ease. This set actually comes as a set–one for mom and one for dad! While you're at it, how about treating her to some new luxury towels?
Lifestyle and Beauty Subscription Box
A subscription to a lifestyle and beauty box is a thoughtful gift that keeps on giving. There are lots of varieties to choose from, but we're big fans of FabFitFun. Each quarter, she'll receive a box that is made up of 8-10 full-size beauty and lifestyle products. Click here to subscribe for FabFitFun.
DEAL ALERT: Use code FAB10 to save $10 off your first box!
Meal Prep Subscription Box
Let's face it. Soon-to-be mom is soon going to be too tired to prepare home-cooked meals from scratch. That's why this meal preparation subscription is so clutch. Be her savior when she's too tired to cook and save her a few hours in the kitchen by gifting weekly easy-to-prepare meals by Sun Basket or Dinnerly. Whether it's a weekly food service like Sun Basket (a box containing everything needed to prep weekly meals at home) or a homecooked care package that you whip up yourself, the way to the heart is through the stomach!
DEAL ALERT:  Sun Basket – Use this link to get $35 Off Plus 4 Free Gifts 
Cleaning Service
The gift of a clean house is seriously priceless. She'll be stressed out enough, the last thing on her mind is cleaning. A one-time deep clean or monthly cleaning service will mean the world to tired new parents. If letting strangers into her house is not her thing, do you know what a great alternative is?
A robot vacuum like the Roomba 692! This smart home appliance is a super-efficient way to begin cleaning smarter. Just schedule it to clean up daily dirt, dust, and debris with the iRobot HOME app or your voice assistant.
Miko Shiatsu Foot Massager
Gifting a new mom a foot massager will be the gift that keeps on giving. She'll be able to relieve her tired feet and improve blood flow time and time again, whenever she wants–while caring for the baby, watching TV, reading, working at the office, or just relaxing. The Miko Shiatsu Foot Massager features deep kneading, shiatsu rolling, and various heat functions.
Quility Premium Cotton Weighted Blanket
There's nothing more important than a good night's sleep. Quility's premium weighted blanket provides the warmth, pressure, and comfort of a hug. She'll be able to fall asleep feeling comfortable and secure (and stay asleep throughout the night), ensuring that she wakes up feeling renewed and ready for another day of parenthood.
Peloton Subscription
We absolutely love Peloton 's Live and On-Demand classes. Not only can she take HIIT classes, barre classes, cycling classes, running classes, and heart-pumping strength workout classes, but she can also relax and reset with Peloton's meditation, stretching, and yoga classes. They're offering a 30-day free trial here.
And that concludes our list of gifts for new moms and expecting mothers! We really hope you were able to find that perfect gift for the mom-to-be in your life.
If she's more into DIY or arts and crafts, we've got a great list of the top subscription box gifts for arts and crafts and DIY projects here.
Before you go, stay in the know! Be sure to subscribe to our monthly newsletter to gain access to exclusive subscription box deals, promos, and spoilers that are too good to publish online!