This post may contain affiliate links. This means we may receive a small commission, at no extra cost to you, if you make a purchase through one of our links. Read the full disclosure here.
Are you a traveler, camper, road trip lover, or even just an outdoor enthusiast in general? If any of the above sound like you or someone you know, then this is the subscription box you've been looking for.
If you are looking for an exciting way to explore the outdoors and get your hands on some new gear, The Nomadik Quarterly Box Subscription might be a perfect choice. With this subscription box, you'll receive a monthly delivery of surprise outdoor gear and products tailored to your preferences.
But is it worth the money? What brands can you expect to receive products from? What products are even featured? We'll dive into all of that in this Nomadik Quarterly Box review post!
* This post may contain affiliate links. You won't be paying a cent more, but in the event of a sale, the small affiliate commission I receive will help keep this blog running/pumping out useful content. Thanks!
---
What Is The Nomadik Subscription?
The Nomadik is a monthly and quarterly subscription box that caters to outdoor enthusiasts who love to explore and discover new gear. Each box is carefully curated to include a selection of innovative and actually functional products that are perfect for the outdoors.
One of the key features of The Nomadik is that it offers both monthly and quarterly subscriptions. This means more control over the types of products you get AND when you get them.
Let me explain a bit further because the monthly subscription and the quarterly subscription don't always contain the same items.
Nomadik Monthly Subscription
With the monthly subscription, subscribers can expect to receive a new box on a monthly basis, which means they will have access to new gear and products on a more regular basis.
Every month, your Nomadik box will contain 3-6 items geared towards outdoor adventures including gear, snacks, and multi-use items.
This is ideal for those who love to stay up-to-date with the latest outdoor gear and products.
Because these boxes come more frequently, the overall retail value of the box is lower than that of the quarterly box. Each box's retail value will hover around $70 or up.
Cost: $34.99 per month (but as low as $29.99 per month if you commit to the annual plan and prepay for 12 months)
Nomadik Quarterly Subscription
The quarterly box subscription means subscribers receive a box every three months. With the quarterly subscription, you'll get 5-8 premium pieces of equipment.
Quarterly boxes are $150 each, and they promise to deliver much more than you pay for. With each quarter, your box will contain $200+ guaranteed value. The gear is actually from premium brands (not junk like some other boxes), and you can skip a quarter or cancel at any time.
This option is perfect for those who don't need new gear as frequently, or for those who want to save a bit of money on their subscription.
Cost: $149.99 per quarter
---
How Does The Nomadik Subscription Work?
Once you've committed to either getting a Nomadik subscription for yourself or for a special gift recipient, visit the Nomadik website and select a subscription plan, such as monthly or annual.
After paying, you'll then provide your outdoor interests and preferences, such as camping, hiking, survival, and more.
Once you activate and fill out your profile on the account page, just sit back and relax and wait for the box to ship! Box themes are tailored to your interests as well as the season.
The contents of each box are a surprise and are tailored to the preferences and interests you set.
Your membership also comes with a sweet little points system. You earn points with each box you stay subscribed for. You can also earn points for referring friends, writing reviews, and other actions which can be used to redeem rewards. 100 points = $10 off a future order.
Subscribers can also cancel or pause their subscriptions at any time.
In addition to the subscriptions, The Nomadik also offers a number of other options for those who want to get their outdoor gear fix. These include the ability to purchase individual boxes, as well as the option to purchase specific products from the shop on their website.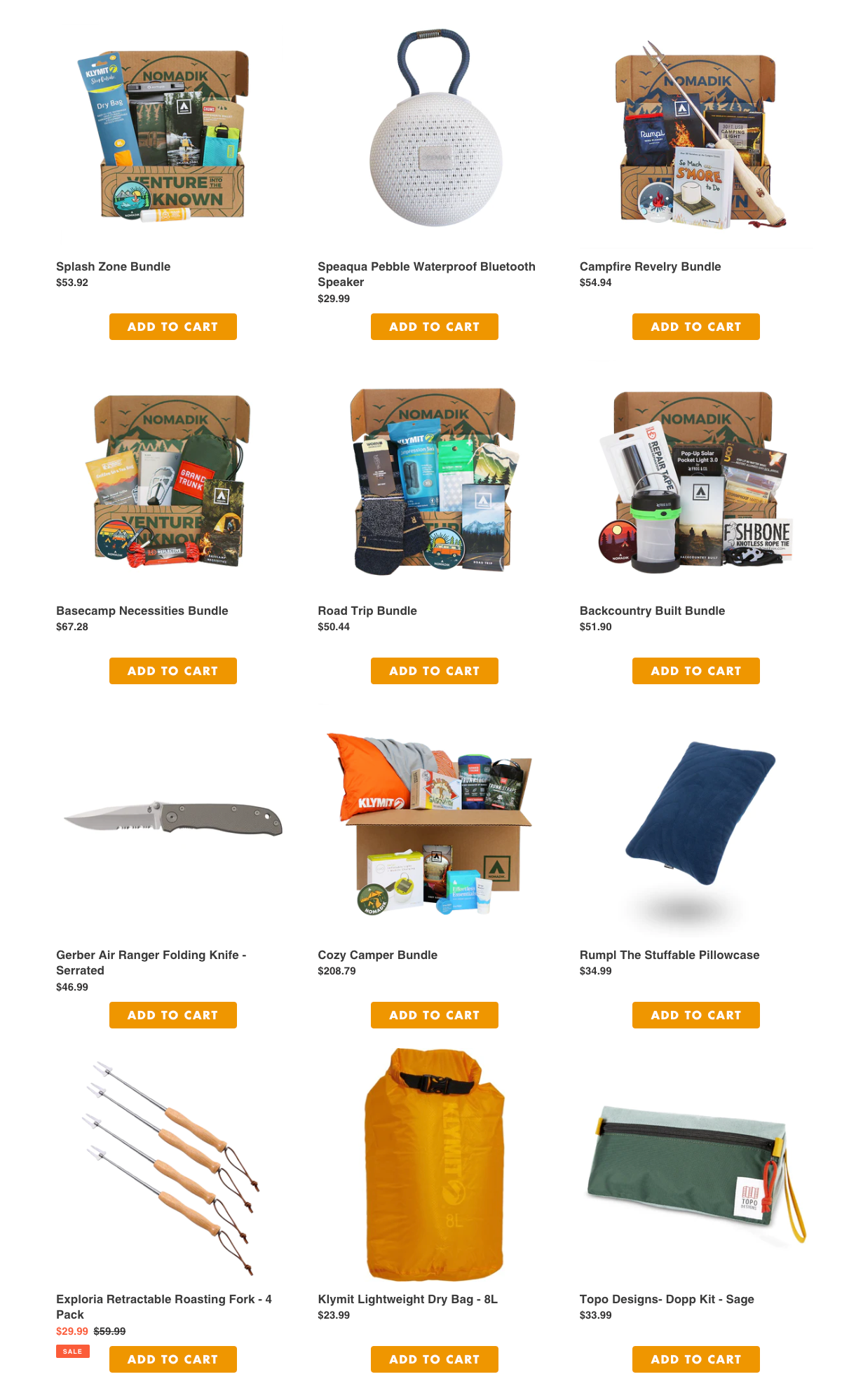 ---
Who Is The Nomadik Subscription Box For?
This outdoor-centric subscription is for anyone who loves being active and spending time in the great outdoors. Whether you are a seasoned hiker, a casual backpacker, or simply enjoy spending time in nature, The Nomadik delivers goods that'll be both high quality and useful to you when you head outside.
Each box includes a selection of gear and products that are specifically chosen to enhance the outdoor experience. This can include items such as camping gear, survival gear, emergency kits, hiking equipment, and more.
And because The Nomadik works with top brands to ensure that subscribers receive the best quality products that are both functional and durable, this box is best for people who are willing to invest in better-quality goods (as opposed to more budget-friendly options).
---
The Nomadik Subscription Box: Pros and Cons
Pros
Easily discover new outdoor brands and products without having to spend time and effort of having to research and purchase these items individually.
Each box is filled with a variety of useful and innovative products.
Really high quality items from top outdoor brands like Grand Trunk, Rumpl, Solo Stove, and Topo Designs.
Boxes are tailored to your interests and preferences
Great value for money: Considering the amount and quality of the products included in each box, The Nomadik offers excellent value for money. Many of the brands and products featured in the boxes are not widely available, making them even more unique and exclusive.
Ironclad Guarantee: if you aren't 100% happy with your box, just reach out to them and they will make it right.
Makes for a unique gift to outdoor lovers
Cons
Limited customization: Subscribers do not have the option to choose the specific products they receive, which may not be ideal for pickier people.
May not appeal to all outdoor enthusiasts: The Nomadik's focus on adventure and the rugged outdoors may not appeal to all outdoor enthusiasts. Some subscribers may prefer a more relaxed approach to the outdoors, and may not find all the items that useful.
---
Nomadik Winter 2023 Quarterly Box Review and Unboxing
My first Nomadik quarterly box and I could not be more excited! This quarter's theme was "City To The Mountains".
Immediately after seeing the contents of the box, I understood the theme–a lot of the items I received were usable in both outdoor settings in the wild as well as indoor settings in the city. I love it when things are multi-functional!
At first look, I received a very nondescript box. The only way I could tell this was from The Nomadik was by looking at the shipping label. This is somewhat of a plus, as stolen packages have been a huge issue in my apartment complex.
Accompanying all the gear was a mini booklet/brochure outlining what each product was. Inside this booklet were also coupons for the brands featured this quarter (which means if I like a brand, then I could use The Nomadik's discount code to buy more gear from that brand), Nomadik Tips (three ways to improve your hikes), and a Nomadik Challenge.
This quarter's challenge was just to take a photo of you using the gear for a chance to win a free $50 product bundle.
Here are the items I received in my winter edition of the quarterly box. This box's retail value is $237. Very impressive retail value, and great first impression for my very first box of the subscription!
Versatile, water-resistant, removable backpack straps. Retail value: $139 USD.
Love, love, love this duffel bag! I have a North Face Basecamp Duffel in size M (71L), but I've found it to be too large for quick weekend getaways.
The Coalatree 55L bag is just the right size for 3-6 days of adventuring! It's the perfect size for a multi-day outing and for those quick overnights where you just want to toss everything quickly into a bag and go.
I tested the bag for a weekend stay away from home. Not only was I able to fit all my clothing, toiletries, and tech in there, but I was also able to stuff an entire pillow in there too!
Flexible, durable, adjustable loops, spill-proof design. Retail value: $39 USD.
This bottle is awesome once you realize what features it has! Its body is collapsible and made of durable silicone, which means it won't dent or scratch (which is perfect for outdoor activities). It's also super easy to clean thanks to its double-ended design.
Finally, a bottle that allows me to "reach" the bottom! This one's a definite keeper–can't wait for my next hike!
Attachable hose, hands-free drinking with MagClip. Retail value: $20 USD.
This item pairs with the MODL bottle and allows for hands-free drinking without the need for a separate hydration pack. The mag clip can clip to things like bike, handlebars, backpack straps, or even car handles.
I love that there are even more products on the MODL website to further customize your bottle for your needs.
Stainless Steel, lightweight, folds, locking mechanism. Retail Value: $19 USD.
This brand has been making folding knives and tools in the French Alps since 1890. This classic folding knife is lightweight and just the right size for tossing into your bag or pocket so that you're never without a knife on the go.
This is an awesome item to just have with you if you're going to be hiking in the backcountry or having a picnic at a campsite– I'm excited to have this new addition in my outdoor kit.
Reusable, durable, and lightweight firestriker. Retail Value: $17 USD.
Since I'm not much of a fire starter in my group of friends, I don't think this is one that I'll be keeping personally, but I will be regifting this to a more frequent camper in my life because this is an awesome product that every true camper should keep in their emergency kit.
PUF Chocolate Brownies + PUF Coconut Chocolate Chip Cookies
Clean ingredients, keeps you energized with some caffeine.
---
Nomadik Winter 2023 Quarterly Box: Overall Thoughts
All in all, I loved the contents of the winter box! The products that I was most excited about using were the Coalatree Duffel Bag and the MODL Bottle and Flow MOD.
In fact, I ended up using the Coalatree Duffel Bag that afternoon when I moved over to my cousin's home to dogsit. The bag was comfortable on the back and fit a ton of stuff (one weekend's worth of stuff was NOT enough to fill it up!).
In addition to the awesome swag I received, I think one of the other things I liked most about The Nomadik is that it offers a surprise element to its subscription.
Subscribers never know exactly what they will receive in each box, which adds an element of excitement to the unboxing experience. This element of surprise is a great way to discover new products and brands that you may not have otherwise come across.
And while many other subscription boxes pad their boxes with useless items that have a high 'retail value' from random name brands, The Nomadik is quite the opposite.
If each future quarter is like the winter box, then I know I'm going to get my money's worth! Looking at previous boxes (more on that below), I can tell that Nomadik's quarterly boxes always feature top-of-the-line gear from well-known brands that outdoor adventurers trust, such as Rumpl, Earth Pak, Topo Designs, All Good, and more.
---
Nomadik Spring 2023 Quarterly Box Unboxing
I decided to keep the Nomadik subscription for another quarter or so to see what else I would get. My hope was to upgrade my old gear without trying very hard — and to have fun doing so! The spring box's contents were extra outdoorsy. These items would be great to have for a future camping or backpacking trip.
Check out what I got below.
Nomadik Spring 2023 Quarterly Box: What's Inside
Stay protected from all the elements with this easy-to-use tarp. The 9-point anchor system allows for a quick and easy setup, simply attach it to trees, fences, or secure it to the ground using the lightweight ground stakes with pre-tied loop knots. This heavy-duty shelter is made of ripstop polyester fabric with waterproof coating, use it whether you need shade or rain coverage! To top it off, the reflective cord makes it visible at night, so no one is tripping or stubbing toes at the campsite.
Silky Saws Medium Teeth Pocketboy 130 Folding Saw
The Pocketboy folding saw is truly a little giant, super lightweight and durable with a strikingly compact design. Marvelous cutting capacity whether clearing the trail or gathering firewood and kindling for your campsite. Low effort triple edge & taper ground blade with non-slip handle.
This compact 150 Lumen LED lantern includes a tether that allows it to attach to your backpack, inside your tent, or anywhere around your campsite. The warm light color and adjustable brightness make it easy to see your way without blinding your campmates. Both waterproof and drop-protected, this lantern is a ready companion for remote and rugged camping trips. Quickly rechargeable, this lantern is also great for longer trips if you have an extra power source. Keep the adventure going with the Cairn Mini lantern.
Whether it's hiking or around the campfire, this lightweight, compact stool provides a quick, easy setup to rest weary legs. Considered small but mighty, the stool supports an impressive 250 lbs. And for the adventurer on-the-go, it features a protective carry bag, along with a convenient carry strap. Make sure you always have it around!
Sagging clotheslines are now a thing of the past with the Taut Line Kit. Easily dry towels hang gear or suspend lights with this kit that includes a reflective 550 Paracord and four easy-to-use Line Tensioners. Just tie a simple figure 8 and follow the numbered slots to hang gear without worrying about drooping.
This Camp Carabiner readily attaches to paracord for hanging a lantern, gravity filter, or backpack without knots. Once anchored in place, it keeps gear off the ground and prevents heavy items from sliding on a camp line. Use the GEAR AID Camp Carabiner for a knot-free solution to hang gear!
UCO Gear Stormproof Match Container w/ 25 Matches
Hedge your bets against the weather with a UCO Stormproof Match Kit. Stormproof matches are windproof, waterproof, and light up quickly in driving rain, heavy winds and falling snow- and will relight even after being submerged in water. The waterproof case floats and keeps 25 matches dry and protected.
---
Is The Nomadik Quarterly Box Worth The Money?
I think one of the best ways to determine whether a subscription box is worth the money is by looking at previous boxes' contents. Here's a quick peek at some of their previous boxes:
Fall 2022 Box (Quarterly)
Survival Frog Solar Shower Bag
UCO Ware Utility Spark, 2-pack Utensils
UCO Gear Sweetfire Firestarter Bio-Fuel Tabs
Yumbutter Almond Butter
Summer 2022 Box (Quarterly)
Gear Aid Knife
Rumpl Towel
Speaqua Cruiser H2.0
2 x Glukos Energy Tablets
All Good Mineral Sunscreen
ToadFish Non-Tipping Cooler Can
Winter 2022 Box (Quarterly)
UCO Mini Fire Starting Kit
Personally speaking, I'm very impressed. Not only does each box feature one high-priced item, but that big ticket item is also actually very practical and functional. The fact that I can see myself using most of the items featured in these boxes tells me that The Nomadik subscription will be worth it for me for boxes and boxes to come.
Ultimately, you should go through the same exercise to determine whether you'll get value out of the quarterly box's contents.
Overall, The Nomadik is a great subscription box for outdoor enthusiasts who are looking to discover new brands and products, try new activities, and save time and effort when it comes to purchasing outdoor gear. While there are some limitations to the customization and frequency of the boxes, the convenience and value for money offered by The Nomadik make it a worthwhile investment for many subscribers.
If you're an avid outdoor adventurer looking to try new activities and gear, or if you simply enjoy the convenience of receiving a selection of outdoor products delivered straight to your doorstep, then The Nomadik may be worth the money for you.
However, if you prefer a more customized experience or a more relaxed approach to the outdoors (and have no need for matches, lighters, pocket knives, and other rugged tools), it may not be the best fit. Worst case, you subscribe and end up with 1-2 items per quarter that aren't useful to you.
It's really not that big of a deal because the products have such high regift value! Even if you don't have a use for a product, chances are there's someone you know who would gladly take it off your hands.
Overall, The Nomadik is a fantastic subscription box for people who love the outdoors. With its carefully curated selection of gear and products, and the option to choose between monthly and quarterly subscriptions, it offers a lot of flexibility to fit your needs.
---
Nomadik Monthly vs Quarterly Box: Which Is Right For You?
Whether you should choose a monthly or quarterly Nomadik subscription box depends on your personal preferences and needs. Here are some factors to consider when making your decision:
Frequency of use: If you are an avid outdoor enthusiast who frequently goes camping, hiking, and backpacking, AND you love discovering new products to elevate your time in the outdoors, a monthly subscription could be the best option for you. You will receive a new box of gear and accessories every month, which will give you a steady supply of new and exciting outdoor gear to try out.
Element of Surprise: If you like the idea of receiving a surprise box of gear and accessories every month, a monthly subscription is the way to go. With a monthly subscription, you will always have something new and exciting to look forward to.
Space: If you're someone who has limited space for storing gear, a quarterly box would be a better option for you. With less frequent boxes, you'll have more time to use and appreciate the gear you've received before the next box comes.
In my scenario, since I was in the market to upgrade a lot of my old gear which hadn't really been updated since 2016, I decided to opt for Nomadik's quarterly subscription.
I wanted larger outdoor/camping/hiking essentials more than I wanted small knick-knacks, which is why I ultimately chose the quarterly over the monthly option.
If you're ready to try out The Nomadik subscription box, check out what items they're featuring this quarter here!
---
Looking for more subscription box ideas? You may also like:
BREO Box Review: Coolest Tech Subscription Or Waste Of Money?
30 Unique Gifts For Men Who Don't Want Anything