This post may contain affiliate links. This means we may receive a small commission, at no extra cost to you, if you make a purchase through one of our links. Read the full disclosure here.
Wondering what to get that special someone in your life this year? We've got you covered with some of the most unique Valentine's Day gifts for couples on the market! We hope this Valentine's Day gift guide inspires you to go above and beyond the standard (somewhat boring and mundane) gift of chocolates, teddy bears, and red roses.
Happy gift-hunting!
BEST SUBSCRIPTION BOX GIFTS FOR COUPLES
Date Night In A Box
Skip the hassle of getting done up to go out by bringing date night right to you! With Date Night In A Box, you'll have everything you need for a fun and exciting date night delivered right to your door. Each month brings a different theme with a unique set of activities that complement the box's theme. Along with the activities, you'll also get accessories for ambiance, high quality snacks and mixers, and chef-curated dinner menus. Previous themes include "Dinner and Dancing", "Build and Strengthen As A Couple", "Roaring 20's", and many more.
Frequency: Monthly
Cost: $41.99, additional savings with longer membership length (one-time, month-to-month, 6-month, 12-month options)
Ships to: Ships free to the US.
Skip a month feature: Yes.
Click hereto subscribe.
Crated With Love
Crated with Love is on a mission to make date nights with your significant other fun again! Each month, the Crated With Love team handcrafts a unique date night experience that aims to inspire laughter and create quality time between you and your partner. What you'll get is an amazing date night, made to be enjoyed in the comfort of your own home. Not only will the included 4-5 box activities strengthen your relationship, but it's also a whole lot of fun too. Previous themes include You + Me in Yosemite, Zombie Apocalypse, Disrupting Unicorns, and Into Hungry Waters. If you'd rather try out the product before committing to a subscription, they also sell one-time boxes!
Frequency: Monthly
Cost: Plans starting at $29.99 per box, depending on membership length (one-time, month-to-month, 6-month, 12-month options)
Ships to: Ships free to the US.
Skip a month feature: Yes.
Click hereto subscribe.
Finders Seekers Subscription Box
Finders Seekers is a monthly "escape room" style subscription box, ideal for anyone who loves puzzles, escape rooms, solving mysteries, or anything requiring a little brainpower. With Finders Seekers, you will experience a mystery puzzle box featuring a new destination theme each month. In addition to the puzzle/escape room experience, you'll get a mini travel experience, too, learning about different regions of the world while you solve riddles and puzzles!
Frequency: Monthly
Cost: $30 per month, additional savings when you prepay for 3, 6, or 12 months
Ships to: Free shipping, only ships within United States
Skip a month feature: Yes.
Click here to subscribe for Finders Seekers.
Fresh Baked Cookie Crate
Fresh Baked Cookie Crate is the ultimate subscription box for bakers and cookie eaters alike! If you're looking for a new activity to do with your significant other, why not try baking together? With this kit, you'll be able to produce delicious gourmet cookies right at home. Each month, you'll receive pre-measured gourmet ingredients and fool-proof instructions to bake your own unique cookies, completely mess-free. You'll get a new cookie recipe every month, and there will never be any repeats.
Frequency: Monthly
Cost: Plans starting at $29.99 per month
Ships To: Free to the US.
Skip a month feature: Yes.
Click here to subscribe.
The Adventure Challenge: Couples Edition
Before you reach for the TV remote, consider a new activity to liven up and strengthen your relationship! If you're looking to explore your relationship past your living room, The Adventure Challenge has got you covered. With The Adventure Challenge: Couples Edition as your guide, you and your significant other will grow in new levels of your relationship through memorable adventures and experiences. How it works: You'll have to scratch off the page to reveal your mystery challenge!
There are 50 challenges that range from $0-$50, but they can all be modified to fit within your budget. Activities include cooking an apple pie (blindfolded), re-creating your grandparents' very first date, painting a masterpiece on canvas, and much more. This book is seriously tons of fun! Don't forget to take a picture and journal your experience so you can look back on all the good times!
Looking to take it one step further? Check out The Adventure Challenge's monthly subscription,The Adventure Box. For a low monthly price of $45/box, you receive a date box with curated items that are traditionally worth over $70+. NOTE: You will need The Adventure Challenge Couples Edition in order to use this subscription box. Scratch off the indicated date in the book and The Adventure Box will provide the rest!
American Cocktail Club
The American Cocktail Club is a premium cocktail subscription box that brings together all-natural and world-class cocktails and delivers them straight to your doorstep. As a part of the Cocktail Club, you'll get 4 servings of a handcrafted cocktail created by award-winning mixologists around the USA. The flavors you get are designed to both be stand-alone and work in combination with other flavors, so you can go crazy and make hundreds of different drinks easily. Past boxes include Smokin' on Juniper, Peach Fizz, and Smoky Gingerita.
Frequency: Monthly
Cost: $49.99 per month, additional savings if you prepay for 3 months, 6 months, and 12 months
Ships To: Free to the US.
Click here to subscribe.
Palate Club
Palate Club is the world's first online wine club that uses data science to send customized wine shipments. They use an algorithm with the help of professional sommeliers and data scientists to track the minute details of each user's palate preferences. Simply sign up, complete your Palate Profile, then sit back and relax while the team curates the perfect wine box for you. Adding to the fun of this subscription, you'll receive your wine bottles wrapped up in tissue paper (with a secret bottle number) so you can blind taste them without bias and continue refining your wine tasting preferences.
Frequency: Monthly, Bimonthly, Quarterly
Cost: The Blind Tasting Kit is $59/box.
Ships to: Free shipping across the United States. Certain states excluded.
Skip a quarter feature: Yes.
Click  here  to subscribe.
DEAL ALERT: Use this link to get $10 off your first Blind Tasting Kit.
CARNIVORE CLUB
About This Box: Love all things cured meat? Well, we're happy to introduce you to Carnivore Club. Carnivore Club is a monthly subscription service featuring premium cured meats delivered right to your door. Every month features a new artisan, and all artisans are unique from one another. Whether it's French Charcuterie, Italian Salumi,  Spanish Chorizo, or South African Biltong, the premium meats you get from Carnivore Club boxes will always be of high-quality and worth every penny. Subscribers can either choose from a Classic Box (4-6 premium handcrafted cured meats) or a Snack Box (featuring premium cured meat-on-the-go snacks).
Frequency: Monthly, Bimonthly, or Quarterly
Cost: $24.99 for the Snack Box, $39.99 for the Classic Box
Ships to: $9.99 shipping to US and Canada
Click hereto subscribe.
Hot Sauce of the Month Club
Do you and your S.O. love all things hot and spicy? Get the best artisan hot sauce delivered to your door each month with Hot Sauce of the Month Club. Hand curated by the experts at Heat Hot Sauce Shop, only the best sauces are chosen, including many sauces that have won awards at the major hot sauce festivals. Members get the choice of Mild, Classic, or Extra Hot heat level, as well as monthly and quarterly subscriptions.
Boxes range from $14 to $35, depending on how many bottles you want per month as well as heat level (Mild and Classic hot sauces are on the cheaper end, while Extra Hot are priciest).
Looking for more foodie gifts? Read More: 40+ Best Food Subscription Boxes And Gourmet Gift Ideas (2021)
OTHER UNIQUE VALENTINE'S DAYS GIFTS FOR COUPLES
The Bon Appetit Gourmet Food Gift Basket
The Bon Appetit Gift Basket offers a huge variety of snacks and teas to satisfy all tastebuds and flavor profiles! I mean, look at it–there are so many great snacks to pair with a drink. This food gift basket is one of our go-to gift ideas for families, friends, and clients who enjoy gourmet snacks.
Massage or Spa Treatment
We could all use a big of rest and relaxation. Why not help him/her unwind by gifting them a gift certificate or voucher to use at a local spa or massage parlor? Aromatherapy with hot stones? Facial and seaweed wrap treatment? Yes, please!
Our Bucket List is the perfect journal for you and your significant other to record ideas and goals to accomplish. Here's how it works: take time to think about what you both are passionate about and record your thoughts on this journal. Want to go sky diving, swimming with dolphins, or climbing a few mountains in France? Simply record the idea, the story behind the idea, and the completion date once done! Grab one for yourself or a few for other couples (so they can go along on the adventures with you)!
We love this journal because it stirs up so much collaboration and creativity between couples! This journal makes for a great anniversary or Valentine's Day gift for newlyweds, couples looking to explore more together, and even couples who have been together for decades.
This is quite literally the gift that gives twenty times. By gifting "love coupons" to your loved one, you can express your affection in many fun and unique ways. Some of the vouchers he or she can choose to redeem include "Candlelit Bath", "Cuddle Session", "Shower for Two", and "End the Argument". Knock Knock Vouchers For Lovers provides a simple way to show love and affection to your significant other–it's one of our favorite items to add to Valentine's Day gift baskets!
This super customizable book contains fill-in-the-blank lines that allow you to put your love for your guy/gal down in writing. What I Love About You has super simple prompts, making it easy to express yourself to your significant other however you want. Make it as lovey-dovey, funny, or sarcastic as you choose! Just complete each line before gifting and boom–you instantly have a personalized gift that your loved one will read again and again.
Wanderer Bracelets
One of the sweetest, most heartfelt gifts on this list is a matching pair of Wanderer Bracelets.  You can personalize these custom bracelets and boxes to celebrate the most meaningful people, places, and moments in your life journey. (My significant other gifted me a Wanderer bracelet with the coordinates of Tokyo, Japan, symbolizing our first international trip together and the moment when we became "official".) Not only are these bracelets adorable and extremely unique, but Wanderer Bracelets also partners with over 150 artisans in Balinese jungle communities so you can feel good about the impact you're making.
Luxury Waffle Weave Spa Robe
If you guys want to feel like you're truly living a spa vacation, you guys have gotta look the part! What better way to do that than with a luxury waffle weave bathrobe that feels great against the skin? From our experience, robes made of 100% Egyptian and Turkish cotton make us feel the most at ease. This set actually comes as a set–one for you and one for your loved one. While you're at it, how about also treating yourselves to some new luxury towels?
Whether you and your partner have been together for one month or 30 years, there's always something new to learn about each other! With this journal, you'll get one question a day to spark fun and meaningful conversations with your loved one. A Year of Us contains 365 entertaining questions that'll get you guys exploring memories, new dreams, and deep thoughts together. Some topics are lighthearted and fun, while others are heartfelt and thought-provoking–you'll get a great variety of questions to help you grow your relationship!
Developed by artist Doug Lowe, this premium couple's hand molding kit (by The Edinburgh Casting Studio) is one of the most unique gifts out there. The kit comes with an illustrated step-by-step instructions booklet to walk you through exactly how to mold and cast the perfect pair of hands. This is one of the best kits out there, as it features their premium casting recipe that captures skin detail and even jewelry.
TheLove Language Card Game features 150 conversation starter questions made specifically for couples. This card game helps grow relationships by asking the right questions and getting couples to talk to each other (something many of us need more of in this digital age)! The cards are divided into 5 major categories: Family, Intimacy, Couple, Individual, and Past & Future. You can either focus on one category with your partner, or mix them all in for a more well-rounded conversation.
This is another great gift for newlyweds, engaged couples, anniversaries, bridal showers, Valentine's Day, etc. It's also great for marriage counseling or therapy.
Sourdough Bread Making Kit
Breadmaking is making a huge comeback these days. If you and your significant other want to try your hands at breadmaking (or take your breadmaking to the next level), get the right tools to do so! This Shori Bake Artisan Bread Making Kit comes with a set of 2 bread proofing baskets and all the tools needed to bake artisan sourdough loaves. It also comes with an e-guidebook for how to make sourdough from scratch, as well as 20+ bread recipes.
Cleaning Service
The gift of a clean house is seriously priceless. We're all stressed out enough as it is, the last thing we want to do with our precious time is deep clean the house. A one-time deep clean or monthly cleaning service will mean the world to your significant other (and if you live with them, you win too!).
If letting strangers into the house is not his/her thing, do you know what a great alternative is? A robot vacuum like the Roomba 692! This smart home appliance is a super-efficient way to begin cleaning smarter. Just schedule it to clean up daily dirt, dust, and debris with the iRobot HOME app or your voice assistant.
Peloton Subscription
We absolutely love Peloton 's Live and On-Demand classes. Not only can you both take HIIT classes, barre classes, cycling classes, running classes, and heart-pumping strength workout classes, but you guys can also relax and reset with Peloton's meditation, stretching, and yoga classes. They're offering a 30-day free trial here.
Read More: 28 Unique Gifts For Men Who Have Everything (Or Don't Want Anything) in 2021
OTHER VALENTINES DAY GIFTS FOR MEN
Flaviar Subscription Box
Founded in 2012, Flaviar is the world's largest premium spirits club, with operations in the US and Europe. Flaviar is designed for people who want to try brands and tastes beyond what's available at a local bottle shop. Their tagline says it all–For Explorers at Heart. Rest assured, a membership will get him the finest and the rarest!
Coupled with educational content like tasting pairings, history lessons, and flavor profile cards, this membership is perfect for someone who wants to appreciate what they're drinking on a deeper level. Members can expect a quarterly Tasting Box (you can pick the theme of your choice) as well as a full-size Premium bottle. Other perks include free live tasting events, access to rare and private bottlings, and member pricing in their shop.
Frequency: Quarterly
Cost: The quarterly subscription costs $95 and the annual subscription costs $300.
Ships to: All EU countries and the United States. Certain states excluded.
Click here to subscribe.
The Hop-Heads Beer Club
If you're looking for an entire beer experience, Hop-Heads Beer Club will give you just that. The Hop-Heads Beer Club was created for the true hop lovers out there, offering a variety of hoppy beer styles, including IPAs, Double IPAs, Session IPAs, IPLs, Imperial IPLs, hoppy Pale and Red Ales, and more. Each box comes with a total of twelve 12 oz. handcrafted beers, featuring four bottles/cans of three different hoppy beers. Most featured beers come from American craft brewers, though international brewers are sometimes featured as well.
Frequency: Monthly, Bi-Monthly, or Quarterly
Cost: $34.95 per box
Ships to: $15 across the US, some states excluded.
Click here to subscribe.
This ultimate survival kit features all the tools he'll most likely need for camping trips, backpacking, wilderness survival, fishing, hunting, and hiking trips. Tools include a tactical pen, carabiner, flashlight, fire starter, tactical knife, survival bracelet, emergency blanket, and more, all packed up nicely in a waterproof shell casing.
CAIRN
About This Box: For guys who would rather spend their time climbing mountains and scaling rocks, Cairn is what's missing in your life. The Cairn subscription box fosters the discovery of new expert-tested and recommended outdoor products. With a membership, you'll get introduced to new brands and products, including outdoor adventure gear, apparel, nutrition, energy, skincare, and more! Simply answer a few questions about your outdoor activity preferences and they'll send you the corresponding apparel, equipment, and accessories you need.  Each box contains up to $50 of retail value and will always be full-size products. There is also the Cairn Obsidian, a quarterly box priced at $250 containing bigger and higher-priced items than the monthly box.
Frequency: Monthly
Cost: $34.99 per month, additional savings if you opt for the 6-month or 12-month plan and prepay
Ships to: Ships free to the US, $5 for Canada, $10 internationally.
Click here to subscribe.
Bespoke Post
Bespoke Post is a subscription catered to men who enjoy tasteful lifestyle products. Each month, subscribers will receive a collection of goods ranging from small-batch coffee, cocktail kits, watches, pocket knives and tools, drinkware, and apparel from independent brands.
Bespoke Post's unique model lets subscribers select a box from a variety of themes so that you get only boxes that fit your lifestyle and are right up your alley. Not interested in what this month has to offer? You can skip the month and wait to see what the next month will offer. This is by far one of our favorite subscription boxes for men.
Frequency: Monthly
Cost: $45 per month
Ships To: Ships free to US, Ships to Canada for $10
Skip a month feature: Yes
Click here to subscribe.
Breo Box
About This Box: BREO BOX brings you the hottest and latest products on the market to ensure you're living your best life. Each box is curated based on current trends and innovations, as well as seasonality. You can expect to receive 5-8 of the best products in health, fitness, tech, and modern living. If you or the guy in your life lives for new and cool technology, this is the ultimate box to get. Each box contains up to $300+ worth of gear, so it's quite a bargain!
Frequency: Quarterly
Cost: Basic – $169
Ships to: Ships free to the US, and $45 to Canada.
Skip a month feature: Yes
Click hereto subscribe.
DEAL ALERT: Use this link and coupon code BREO10 for $10 off your first box.
OTHER VALENTINES DAY GIFTS FOR WOMEN
Bold Blossoms
With a Bold Blossoms subscription, she'll get professionally designed and handmade fresh-flower bouquets delivered straight to her home or office. Flowers are a proven mood booster, so she'll be so delighted to receive flowers once a month! Trust us, these are much better looking than the bouquets you get from other franchise flower retailers.
Bold Blossoms bouquets are made in sunny Orange County, CA but can be shipped nationwide. The larger the bouquet, the more premium the flowers are (the Bold/Extra Bold includes protea, orchids, and even birds of paradise). They offer 1 month, 3 month, 6 month, and 12 month subscription cycles. The longer your subscription, the lower the monthly cost. You can also order once, simply for an upcoming holiday!
Frequency: Monthly or a one-time purchase
Cost: Bouquets starting at $49.99/month, additional savings if you pre-pay for longer subscriptions.
Ships to: Ships across the United States.
Click here to subscribe.
CAUSEBOX
CAUSEBOX is a quarterly subscription box specifically curated with socially conscious products for women. In each seasonal box, you'll receive various lifestyle products that are cruelty-free and sustainably made. Not only are they focused on ethical and sustainable production, but they also donate a percentage of their profits to charities around the world. Talk about shopping to support a cause!
Cost: $54.95 per box on a quarterly basis, or $49.95 per box with an annual subscription
What You'll Get: A seasonal curation of 6-8 products that are community-focused, ethically made, and environmentally conscious. Products will include health, beauty, fitness, wellness, apparel, and home products selected by the CAUSEBOX team.
Ships to: The US for free, additional cost to Canada.
DEAL ALERT: Save $10 on your first box with this link.
TheraBox – Self Care Subscription Box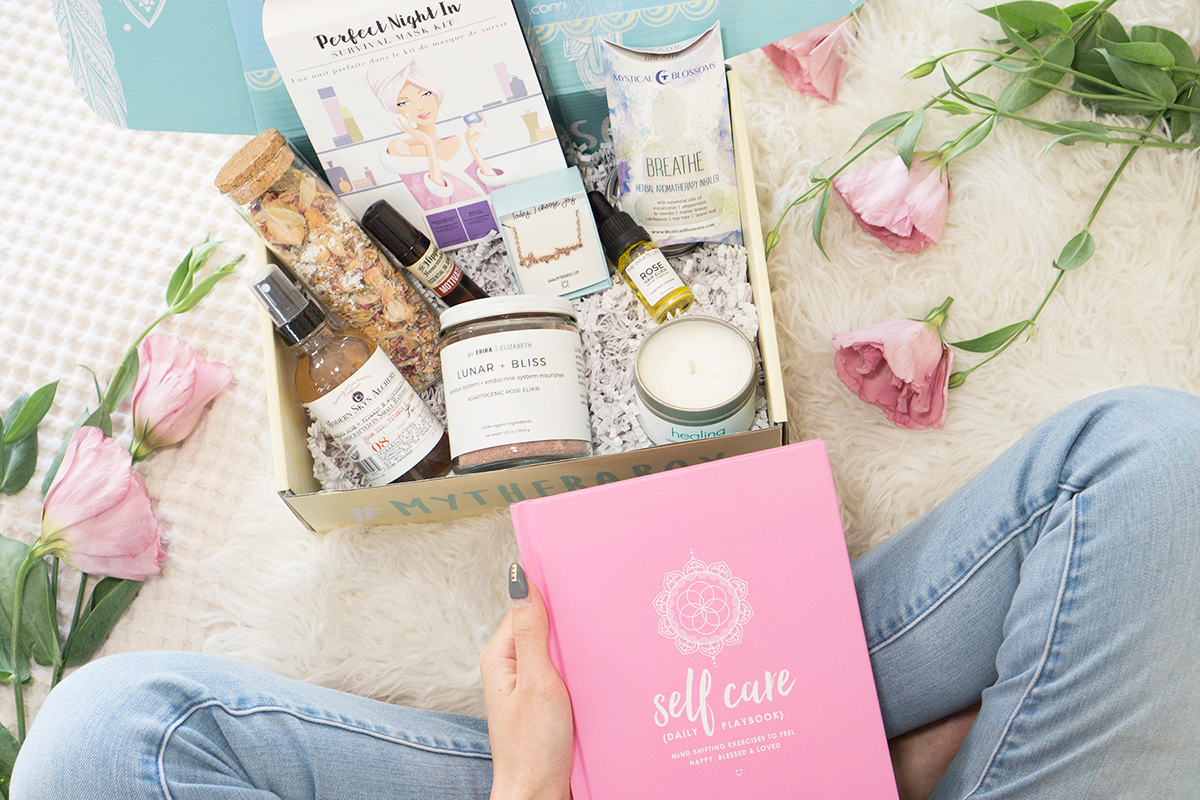 Unbox happiness on a monthly basis! This wildly popular box is one of our favorite gifts for women. TheraBox contents are mindfully curated by therapists to reduce stress & increase joy through self-love. Each box includes 1 research-inspired therapeutic activity to promote gratitude and happiness. It will also feature 6-8 self-care and wellness products that will serve to reduce stress & enhance her mind, body, and soul! She can expect products ranging from aromatherapy, natural/organic bath, body, skincare products, and other lifestyle goodies!
Each box has over $120+ retail value, so this is quite a deal for the price you're paying!
Frequency: Monthly
Cost: Plans starting at $30.99/month, cancel anytime
Ships to: Ships worldwide from United States
Click here to subscribe.
Goddess Provisions Box
If your lady (or man) loves astrology, horoscopes, or all thing spiritual, a Goddess Provisions subscription will be the perfect gift. These subscription boxes are curated to nurture one's inner goddess and help grow one's spiritual practice. Each box contains 5-7 full-size products with a total retail value of $80-$100. All the products inside are vegan, cruelty-free, and natural. You can expect a mix of crystals, aromatherapy, natural beauty products, superfood snacks & spiritual tools.
Frequency: Monthly
Cost: Plans starting at $28/month, cancel anytime
Ships to: Ships within the US for free
Click here to subscribe.
Lifestyle and Beauty Subscription Box
A subscription to a lifestyle and beauty box is a thoughtful gift that keeps on giving. There are lots of varieties to choose from, but we're big fans of FabFitFun. Each quarter, she'll receive a box that is made up of 8-10 full-size beauty and lifestyle products. Click here to subscribe for FabFitFun.
DEAL ALERT: Use code FAB10 to save $10 off your first box!
Feeling Fab
In this digital age where we spend so much of our time go-go-going, it can be hard to find time to slow down and practice self-care. Why not give the gift of wellness and some "me-time" to your loved one? Feeling Fab subscription boxes feature a plethora of products that are designed to make her look good and feel amazing every single day. She can expect items such as natural beauty, skincare, and body-care products, as well as stress-relieving products, healing crystals, candles, gemstone jewelry, and more.
Feeling Fab comes in a few different subscription tiers. There's the Mini (4-5 products valuing up to $50), the Premium (6-8 products valued up to $100), and the Premium Plus (8-10 products valued at $120+).
Frequency: Monthly
Cost: Mini plans start at $21.95; Premium plans starting at $29.99/month, additional discount if you pre-pay for a longer subscription.
Ships to: Ships within the US, shipping costs apply.
Click here to subscribe.
Gift Wander Beauty Baggage Claim Eye Masks
Treat her to a soothing at-home treatment for tired eyes. These gold foil eye masks will brighten, hydrate, and reduce the appearance of dark circles and wrinkles around the eyes. Best of all, they won't fall off like some sheet masks, so she can multitask all the while she's pampering herself. These under eye masks are award-winning, cruelty-free, and vegan!
Vitruvi Stone Diffuser
The Vitruvi Diffuser is absolutely gorgeous. Crafted out of high-quality porcelain, these beautiful stone diffusers will help her diffuse essential oils throughout her home, while doubling as a stunningly simple piece of decor. It's a self-care gift and a housewarming gift all wrapped up in one awesome product. Best of all, they come in 4 different earth tone colors.
Capri Blue Candle in Volcano
No lie, we absolutely adore Capri Blue candles, especially Volcano, their signature scent. Volcano is an energizing blend of exotic citrus and sugary notes. Feeling like you're in a tropical paradise doesn't have to include flying miles away! The scents of all of their candles are simply divine and will transport her to her best tropical dreams. Capri Blue also has equally amazing diffusers, too!
And that's it! We hope you enjoyed this list of some of our favorite gifts for Valentine's Day! As you can tell, we believe sharing food experiences and quality time with your loved one is the most valuable gift of all.
If you're looking for more activity boxes (great ways to spend a few hours), check out our favorite arts and craft subscription boxes here.
Before you go, stay in the know! Be sure to subscribe to our monthly newsletter to gain access to exclusive subscription box deals, promos, and spoilers that are too good to publish online!
Want more exclusive coupons, deals, and spoilers?
Subscribe to our newsletter. You'll never miss an exclusive offer or a groundbreaking product update!