This post may contain affiliate links. This means we may receive a small commission, at no extra cost to you, if you make a purchase through one of our links. Read the full disclosure here.
Are you looking for the best experience gifts for couples? Maybe you're looking for a gift to give your own significant other. Maybe you're looking to gift something to a special couple you know in your life. No matter the reason, you're in the right place.
Everyone loves receiving gifts. They make people feel special. It's even more special if the gift is an experience and not just a material object. We here at SBE always prefer experiences over physical things as we feel it's much more personal that way. All these experience gifts for couples have something in common — they'll have you and your loved ones doing fun activities together!
So without further ado, here is our complete list of the most unique experience gifts for couples, perfect for anniversaries, Valentine's Days, and birthdays. Let's get into it!
---
Best Experience Gifts For Couples This Year
1. Tinggly
Tinggly might just be the best experience gift you've ever come across. The concept is simple. You choose a Tinggly gift box (which is available in a range of prices and themes including Valentine's Day), you send it as a gift, and the recipient gets to choose from hundreds of diverse experiences in over 100 countries around the world. One gift buys you an entire collection of amazing experiences or getaways for the recipient to choose from.
As a return, they will also remove 5kg of polluting plastics from the oceans (with the help of Plastic Bank) and 200% of CO2 that was created during your chosen experience! An incredibly fun, flexible gift that also does the world some good? This is definitely one of our favorite gifts to give all year round.
2. Date Night In A Box
Skip the hassle of getting done up to go out by bringing date night right to you! With Date Night In A Box, you'll have everything you need for a fun and exciting date night delivered right to your door. Each month brings a different theme with a unique set of activities that complement the box's theme.
Along with the activities, you'll also get accessories for ambiance, high-quality snacks and mixers, and chef-curated dinner menus. Previous themes include "Dinner and Dancing", "Build and Strengthen As A Couple", "Roaring 20's", and many more.
Frequency: Monthly
Cost: $45.99, additional savings with longer membership length (one-time, month-to-month, 6-month, 12-month options)
Ships to: Ships free to the US.
Skip a month feature: Yes.

3. Crated With Love
Crated with Love is on a mission to make date nights with your significant other fun again! Each month, the Crated With Love team handcrafts a unique date night experience that aims to inspire laughter and create quality time between you and your partner. What you'll get is an amazing date night, made to be enjoyed in the comfort of your own home.
Not only will the included 4-5 box activities strengthen your relationship, but it's also a whole lot of fun too. Previous themes include You + Me in Yosemite, Zombie Apocalypse, Disrupting Unicorns, and Into Hungry Waters. If you'd rather try out the product before committing to a subscription, they also sell one-time boxes!
Frequency: Monthly
Cost: Plans starting at $39.99 per box, depending on membership length (one-time, month-to-month, 6-month, 12-month options)
Ships to: Ships free to the US.
Skip a month feature: Yes.
4. Virgin Experience Gifts
Virgin Experience Gifts is the definition of an experience gift (of course, it's in the name)! With over 1,800 unique experiences in 48 different regions, this brand will offer something fun and fresh for any type of gift recipient.
From scenic cruises to white water rafting, race car driving to wine tastings and spa packages, there's a whole assortment of good stuff to choose from.
Just narrow down your activity options based on location, buy it, and watch their face light up when they realize they're going on a hot air balloon ride–or on a tandem hang gliding lesson–the choice is yours!
Not sure what he or she is interested in? They have a gift certificate option too, so your special someone can pick his or her very own experience.
5. Bokksu
Bokksu is a monthly snack subscription box that specializes in premium Japanese snacks that you can't find at your local market.
A monthly subscription to Bokksu will take you on a gourmet journey through Japan. Imagine getting the best goodies from Japan delivered straight to your doorstep, including Hokkaido white chocolate butter cookies and hand-ground matcha from Kyoto. Each box is curated around a cultural theme, with really fun past box themes such as Seasons of Japan, Snowy Hokkaido, Moon Festival, and Fireworks Festival.
The best part is, they source their products directly from local makers in Japan so you won't be able to find these snacks in regular grocery stores! 
What You'll Get: 20-25 Japanese snacks with a tea pairing, all centered around a monthly cultural theme
Frequency: Monthly
Cost: Starting at $49.95 per month, additional savings if you prepay for 3, 6, or 12 months.
Ships to: Free shipping worldwide from Japan.
Skip a month feature: Yes.
Wondering if this box is worth the money? Read our review of Bokksu here.
6. Tippsy Sake
Tippsy is a niche alcohol subscription service that caters to both sake lovers and those trying to learn more about Japanese sake. The mission of Tippsy is to make sake simple and fun. And what they deliver is not just a few bottles of sake, but a whole tasting experience complete with sake expert-led tasting videos!
In fact, Tippsy is the first online retail platform to sell Japanese sake to those who don't know how or where to buy good sake. Their platform makes it really easy for subscribers to easily find their favorite brand and streamlines the alcohol delivery logistics so they can focus on what matters–drink the freshest sake after it's been delivered to their door! 
What you'll get: One sake box that comes with (6) 10 oz. bottles of sake + member pricing for over 400 types of sake online.
Frequency: Quarterly – First box is shipped immediately after sign-up, then you will be enrolled in the quarterly cycle (March, June, September, December)
Cost: $99 for 6 bottles, additional discounts with longer subscriptions.
Ships to: Free shipping across the US, some states excluded (due to complex alcohol regulations).
Skip or pause a month feature: Yes.
DEAL ALERT: Use this link and the promo code SAKESETS for 15% off assorted sake sets. 
DEAL ALERT: Use this link and the promo code SAKECLUB to get $10 off your first month of the Monthly Sake Box.
Wondering if this box is worth the money? Read our review of Tippsy Sake here.
7. Finders Seekers Subscription Box
Finders Seekers is a monthly "escape room" style subscription box, ideal for anyone who loves puzzles, escape rooms, solving mysteries, or anything requiring a little brainpower. With Finders Seekers, you will experience a mystery puzzle box featuring a new destination theme each month.
In addition to the puzzle/escape room experience, you'll get a mini travel experience, too, learning about different regions of the world while you solve riddles and puzzles! This is one of the best experience gifts for couples who want to tease their brains a bit while they're fully immersed in a mystery storyline.
Frequency: Monthly
Cost: $30 per month, additional savings when you prepay for 3, 6, or 12 months
Ships to: Free shipping, only ships within United States
Skip a month feature: Yes.
Wondering if this box is worth the money? Read our review of Finders Seekers here.
8. Hunt A Killer
If you, your partner, or the couple you know are in the market for an escape room experience with a hint of true crime, Hunt A Killer could be the perfect experience gift you're looking for. The game taps into the True Crime phenomenon that's been sweeping the nation and existing customers absolutely love the storylines that Hunt A Killer produces.
Hunt A Killer is a murder mystery subscription box where you essentially get to be a detective tasked with solving a murder. Each month, a 'detective' will send you a box with letters, documents, clues, and evidence you need to solve the crime. With each box, you'll be able to eliminate a suspect and get one step closer to cracking the case. With this box, you and your partner will be able to put your detective skills to the test to piece together the story and catch the killer!
Catching a killer not the right theme for you? They also have a game in the Blair WItch Cinematic Universe, various "premium" experiences that are family-friendly, as well as games in other genres.
Frequency: Monthly
Cost: $30 per month, additional savings when you prepay for 6 or 12 months
Ships to: $3.95 for the month-to-month plan; Free shipping for 6+ month commitment, additional int'l rates may apply
Skip a month feature: Yes.
DEAL ALERT: Get 20% off your first Hunt A Killer box with code FLASH20
9. The Adventure Challenge: Couples Edition
Before you reach for the TV remote, consider a new activity to liven up and strengthen your relationship! If you're looking to explore your relationship past your living room, The Adventure Challenge has got you covered. With The Adventure Challenge: Couples Edition as your guide, you and your significant other will grow in new levels of your relationship through memorable adventures and experiences. How it works: You'll have to scratch off the page to reveal your mystery challenge!
There are 50 challenges that range from $0-$50, but they can all be modified to fit within your budget. Activities include cooking an apple pie (blindfolded), re-creating your grandparents' very first date, painting a masterpiece on canvas, and much more. This book is seriously tons of fun! Don't forget to take a picture and journal your experience so you can look back on all the good times!
10. American Cocktail Club
The American Cocktail Club is a premium cocktail subscription box that brings together all-natural and world-class cocktails and delivers them straight to your doorstep. As a part of the Cocktail Club, you'll get 4 servings of a handcrafted cocktail created by award-winning mixologists around the USA.
The flavors you get are designed to both be stand-alone and work in combination with other flavors, so you can go crazy and make hundreds of different drinks easily. Past boxes include Smokin' on Juniper, Peach Fizz, and Smoky Gingerita.
Frequency: Monthly
Cost: $54.99 per month, additional savings if you prepay for 3 months, 6 months, and 12 months
Ships To: Free to the US.
11. Shaker & Spoon
With Shaker & Spoon, each month's box features 3 unique recipes by top bartenders. Within the box, you'll find everything you need (except the liquor) to make 12 drinks total, including syrups, bitters, mixers, garnishes, and more. Each month revolves around a different type of liquor and theme, and you can skip any boxes you'd rather not try.
Previous boxes include: Fall for Mezcal Box, Kanpai! Box, Tequilin' It Box, Puttin on the Spritz Box, and Girls Just Wanna Have Bourbon Box. They're all so fun and creative!
Shaker & Spoon is an experience gift that will further your drink-making skills, so you can be your own bartender for you and your friends. You'll be on your way to hosting your very own cocktail party in no time.
Frequency: Monthly
Cost: $50 per month, additional savings if you prepay for 3, 6 or 12 months.
Ships to: $5 flat rate shipping within the US, some states excluded
Skip a month feature: Yes.
12. Carnivore Club
Love all things cured meat? Well, we're happy to introduce you to Carnivore Club. Carnivore Club is a monthly subscription service featuring premium cured meats delivered right to your door.
Every month features a new artisan, and all artisans are unique from one another. Whether it's French Charcuterie, Italian Salumi,  Spanish Chorizo, or South African Biltong, the premium meats you get from Carnivore Club boxes will always be of high-quality and worth every penny. Subscribers can either choose from a Classic Box (4-6 premium handcrafted cured meats) or a Snack Box (featuring premium cured meat-on-the-go snacks).
Frequency: Monthly, Bimonthly, or Quarterly
Cost: $36.99 for the Snack Box, $49.99 for the Classic Box
Ships to: $9.99 shipping to US and Canada
13. Priority Pass Airline Lounge Pass
Give the gift of comfort and relaxation whenever they travel by gifting an airport lounge pass.
Airline lounge passes such as Priority Pass let travelers access a variety of airport lounges before and after their flight. I cherish my Priority Pass membership dearly and, in fact, aim to get to the airport early these days just to enjoy airport lounges! I'm sure many other travelers would love access to food and drinks, comfortable lounge chairs, nap areas, and showers before their flights as well.
Minimum memberships start with an annual fee and require an additional per-visit fee, while more premier memberships cover unlimited lounge access (including guests) with no additional fees.
14. America The Beautiful National Parks Pass
Now more than ever, people around the world are heading outdoors to find peace, solace, and adventure.
If sightseeing at Yellowstone, sleeping under the stars in Joshua Tree, or hiking through Zion National Park are all things that the couple in your life would love, then gifting them an America the Beautiful Park Pass is a perfect experience gift.
This annual pass covers the entry cost to thousands of federal recreation sites across the country, including national parks, national monuments, national forests, and more. Gifting this pass is practically gifting someone a bunch of bucket list opportunities!
15. Go City Attraction Pass
Go City is a digital attraction pass that provides easy access and admission to some of the world's most popular museums and excursions. Go City offers these money-saving attraction passes in various destinations around the world including Bangkok, Amsterdam, Barcelona, Chicago, San Francisco, Oahu, Paris and much more. With certain excursions, you're even able to skip the line, saving you both money and time!
Each city typically has two types of passes–the All-Inclusive Pass and the Explorer Pass.
The Go City All-Inclusive Pass is really great for travelers who want to see as much as possible while they're in a city. With the All-Inclusive Pass, you can usually choose between a 1, 2, 3, or 5-day pass that will grant admission to dozens of museums and attractions throughout a city. With the Explorer Pass, you'll pay one flat fee for a multi-choice pass. You'll then have 60 days to use the Explorer Pass on whichever attractions you'd like.
Really, the money you can save with this pass (as opposed to buying admission tickets for various attractions separately) is unreal! This is the perfect experience gift for couples that tend to travel frequently.
16. Fresh Baked Cookie Crate
Fresh Baked Cookie Crate is the ultimate subscription box for bakers and cookie eaters alike! Whether you're a seasoned baker or completely new to baking, you'll be able to produce delicious gourmet cookies right at home.
Each month, you'll receive pre-measured gourmet ingredients and fool-proof instructions to bake your own unique cookies, completely mess-free. You'll get a new cookie recipe every month, and there will never be any repeats. Fresh Baked Cookie Crate is an awesome food-themed gift for families and couples who love spending time in the kitchen.
Frequency: Monthly
Cost: Plans starting at $34.99 per month
Ships To: Free to the US.
Skip a month feature: Yes.
17. Explore Local Box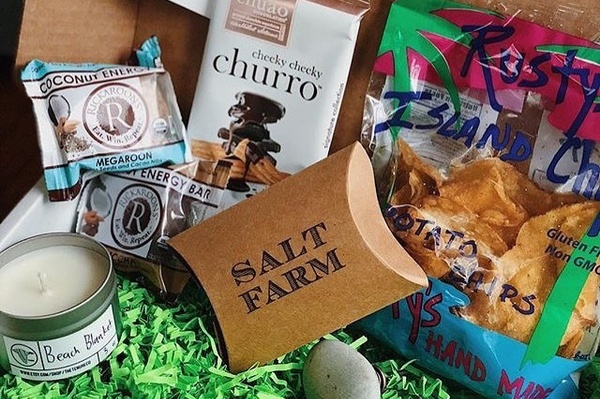 This snack subscription box is so creative and fun, especially for couples who are cooped up at home but have a travel bug that never really goes away. With Explore Local Box, you can explore a new US city every month through premium, locally made food products!
Boxes include food items as well as non-food items that are locally produced by small businesses and local artisans from the featured month's city. You'll also get a watercolor map as well as fun facts about the featured city. Previous cities include Albuquerque, NM, Chicago, IL, Brooklyn, NY, Portland, OR, and way more.
They also have separate gift subscriptions, perfect for all the travelers and adventure seekers you know!
Frequency: Monthly
Cost: $35/month.
Ships to: Free shipping across the United States
18. Murray's Cheese Club
Sign up for Murray's Cheese Club to get high-quality cheeses from New York City shipped right to your door. Choose from five different subscription services: Perfect Pair of the Month, Cheesemonger's Picks of the Month, American Cheese of the Month, Classic Cheese of the Month, and Cheese Board of the Month (this one is the whole shebang). You can even add charcuterie items, cheese pairings, and other accompaniments to your monthly package.
Each Monthly Club delivery also includes a detailed guide to the products included, with descriptions of origin and flavor, along with beverage pairings for each. Whether you're treating yourself or surprising a foodie friend, Murray's Monthly Clubs are the best way to stay up to date on their popular products and get your cheese fix once a month.
Frequency: Monthly
Cost: Plans start at $63/month, cancel anytime
Ships to: Free shipping across the United States
19. Try The World
Try The World is the first gourmet tour around the world, no plane ticket needed. With this box, you will receive gourmet products from different countries like France, Japan, or Argentina every month. You'll be able to take a food journey around the world and discover a dozen of the best gourmet and cultural finds in each box!
Frequency: Monthly
Cost: $29/month for the Snack Box, $49/month for the Signature Box; additional savings when you prepay for 3, 6, or 12 months
Ships to: Free shipping, only ships within United States
Skip a month feature: Yes.
DEAL ALERT: Use this link and coupon code TAKE10 for $10 off the signature box.
DEAL ALERT: Use this link and coupon code SNACKBOX10 for $10 off the snack box.
20. Spa Finder
Spafinder is the award-winning spa & wellness service dedicated to providing the information, experiences and inspiration to help people find and share their paths to wellness. With a Spa Finder gift card, you'll get instant access to thousands of day spas treatments such as massages, manicures, pedicures, haircuts and even week-long weight loss retreats!
The Spafinder partner network is comprised of world-renowned retreats that pioneered the concept of 'spa' globally. You can expect access to national brands such as Bliss, The Ritz-Carlton, Mandara Spa, Elements Massage, Spavia, and lots, lots more!
Gift-givers can choose between mailing a physical gift card, printing one right away in the comfort of their own home, or an email option so that they can send the gift of wellness immediately. Perfect for last-minute gifting!
This experience gift is perfect for couples, brides, families, moms and more.
21. VRBO Mini Staycation
One of the best gifts in our opinion is quality time. What better way to spend some quality time with your loved one than with a mini staycation?
Spend a long weekend lounging around together and exploring a new little town by booking a VRBO vacation home rental. Want to stay on a boat? How about an oceanfront property? A cozy design cabin in the woods? VRBO's got all of that!
With thousands of locations across the country that fall under every price point imaginable, you'll easily find the perfect spot to spend lots of quality time together and create new memories too.
22. Clay Pottery Kit
Create your own pottery in the comfort of your living room with this at-home pottery kit! The kit provides all the tools you will need to get creative with clay. Whether the kit is for you, or a gift for a friend, a loved one, or a couple, your gift recipient will have a ton of fun expressing their creative minds!
Each kit comes with simple instruction cards that will provide inspiration and ideas to get you started (and for future clay projects too). This at-home clay kit is ideal for a party of 2! No kiln or oven baking is needed.
23. Our Bucket List: Journal for Ideas and Adventures for Couples
Our Bucket List is the perfect journal for you and your significant other to record ideas and goals to accomplish. Here's how it works: take time to think about what you both are passionate about and record your thoughts on this journal. Want to go sky diving, swimming with dolphins, or climbing a few mountains in France? Simply record the idea, the story behind the idea, and the completion date once done! Grab one for yourself or a few for other couples (so they can go along on the adventures with you)!
We love this journal because it stirs up so much collaboration and creativity between couples! This journal makes for a great anniversary or Valentine's Day gift for newlyweds, couples looking to explore more together, and even couples who have been together for decades.
---
Thanks for reading, we hope you find the perfect experience gift for the couple that you're shopping for!
Looking for more subscription box gifts? You might also like:
Before you go, stay in the know! Be sure to subscribe to our monthly newsletter to gain access to exclusive subscription box deals, promos, and spoilers that are too good to publish online!
Want more exclusive coupons, deals, and spoilers?
Subscribe to our newsletter. You'll never miss an exclusive offer or a groundbreaking product update!