Try The World is the first gourmet food tour around the world, no plane ticket needed. This snack subscription service is meant for well-traveled foodies and adventurous eaters alike. Read on to discover what's inside a Try The World subscription box, read about our experience, and decide for yourself if it's worth the money or not.
---
WHAT IS TRY THE WORLD?
Try The World merges food with travel and conveniently delivers it right to your doorstep. With this box, you will receive gourmet products from different countries like France, Japan, or Argentina every month. You'll be able to take a food journey around the world and discover a dozen of the best gourmet and cultural finds in each box.
It's a great gift for any foodie you know who also enjoys traveling, or it can be an equally awesome gift to yourself if you want to go on a tastebud adventure while remaining right in your living room!
Unlike other services that deal with just snacks, Try The World has two different monthly options to choose from:
A Countries box option: You can get a curated box of gourmet foods from various countries—including ingredients to cook with, drinks, and snacks. The Countries box contains 7 to 8 foods handpicked from around the globe. Each month's box will feature a variety of countries, and subscribers are currently unable to choose which countries their boxes will feature.
A Snacks box option: As the name suggests, you will get snacks from countries all over the world with this option. The Snacks box contains 6 different snacks from 6 different countries, with a mixture of both sweet and savory options.
Frequency: Monthly
Cost: $19/month for the Snack Box, $39/month for the Signature Box; additional savings when you prepay for 3, 6, or 12 months
Ships to: Free shipping, only ships within United States. Extra shipping charges apply if you live in certain areas such as Alaska, Puerto Rico, Hawaii, and other areas. After you place your order, it will ship in the next 30-45 days.
Skip a month feature: Yes.
Click here to subscribe.
DEAL ALERT: Use this link and coupon code TAKE10 for $10 off the signature box.
DEAL ALERT: Use this link and coupon code SNACKBOX10 for $10 off the snack box.
---
Pros

of Try The World
Each box includes various full-size products (not just samplers).
There's variety in the types of food you get.
You can either order the monthly subscription box or buy individual items online.
---
Cons

of Try The World
Boxes are expensive.
No customization options are available.
There's a decent chance you might not like what you get.
May not be ideal for those with dietary restrictions.
---
WHAT'S INSIDE A TRY THE WORLD BOX?
So what can you expect to get in your box every month? Well, the exact contents of each month's box is unpredictable, as they're constantly changing it up. One month, I received pantry items, coffee, and jarred simmer sauces from South American countries and Southeast Asian countries, while another month, I received capers, fruit spread, ghee, and hot sauces from various countries of origin.
The unpredictability of the box's contents is what makes Try The World such a fun subscription box option! Despite our inability to tell you what's inside exactly, one thing is for sure–you will be getting full-size items (not just snacks or trial-sized foods).
---
OVERALL REVIEW OF TRY THE WORLD COUNTRIES BOX
I signed up for a 3-month subscription to Try The World's Countries Box, and I was extremely excited to receive my first month's box! I love traveling (and trying new foods while traveling) and this box really tapped into both of those passions. The angle of allowing subscribers to try foods from all over the world was surely unique, especially when compared to other snack subscription boxes out there.
So how was my overall experience? Let's get into it.
Upon opening the box, I first noticed that everything inside was neatly wrapped up to protect it from spillage or shattered glass. This was good because it shows some attention to detail, which is a pro.
However, I also noticed there was no pamphlet or booklet of any kind included for me to learn more about the products within the box. This was a letdown because I was hoping the box would provide me with a more immersive tasting experience.
I took a look at the products one by one, and while I was impressed with how heavy the box was because they included all full-sized items, I could not find a theme or a pattern in the items included. I had initially thought Try The World would select 7-8 products from one specific country each month, but I was wrong in assuming this.
Instead, I received a hodgepodge of randomly assorted products including coffee from Germany, cookie butter from Italy, a korma simmer sauce from India, pickled garlic from Turkey, as well as hot mustard and ginger chews.
Some of these products I had seen at the supermarket before, while others were completely foreign to me. At this point, I was sort of thrown off, because I had hoped that I could more deeply learn about one country through its food products. So if you're under the impression that each month features one country and one country only, think again!
Chimes Ginger Chews: Healthy ginger chews made from real ginger. Their candy is 100% Vegan, NON-GMO and Gluten-free.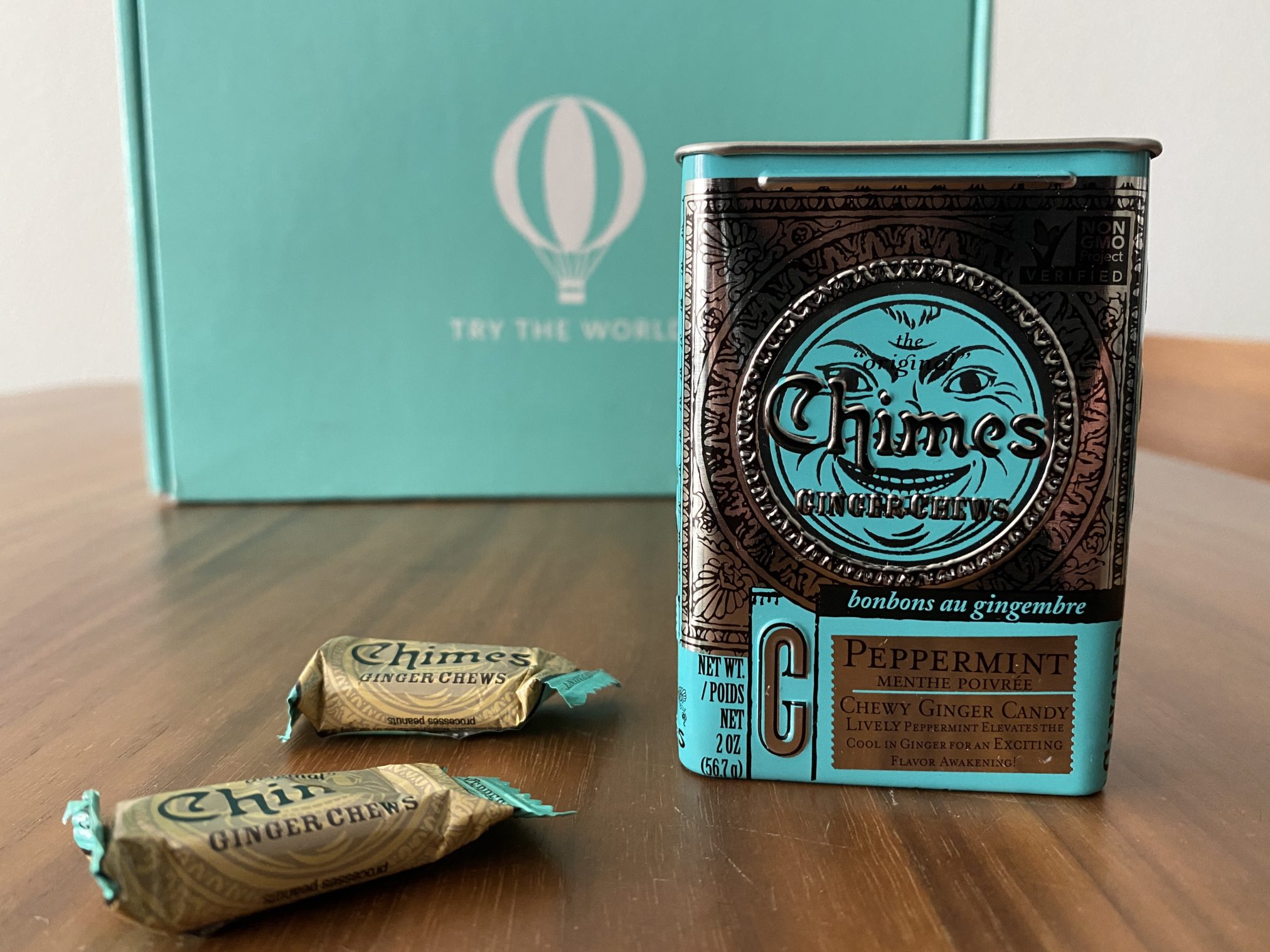 Tchibo Röst Frisch Coffee: Founded in 1949, Tchibo has been delighting coffee connoisseurs for over 70 years, becoming the #1 coffeehouse in Europe. It is, however, now new to America. The dark roast was sent to me, but they have a huge assortment of other coffee types and roasts available.
Hlthpunk Hot Mustard: This 100% organic Hot Dijon Mustard is based on the original recipe much loved by Louis XI of France who kept a pot with him at all times.
PickerFresh Pickled Garlic: PickerFresh partners with more than 4,000 farmers in Turkey where the climate is ideal for growing some of the world's best Mediterranean produce.
Italione Cookie Butter Creamy: This cookie butter contains no hydrogenated fats and no preservatives. It's non-GMO, made from Le Petit Beurre cookies with no added sugars.
India's Nature Navrattan Korma Simmer Sauce: A luscious and savory sauce that will melt in your mouth.
Alright, now that you've seen what's inside, let's break this review down a bit further by categories.
Assortment/Rarity Of Products
Despite how heavy this month's box was, I wasn't blown away by any of the products in particular. I was really hoping for a carefully curated collection of unique products that were from another country and not easily accessible in the USA. However, many of the products I received this month were easily available online and even available at my local health food store.
Diving into each product one by one to prove this out, I found that the Indian simmer sauce was distributed in NY, the pickled garlic from Turkey was distributed in NY, and the ginger chews were from CA. It definitely made the products less exciting knowing that I could have easily gotten them at local supermarkets if I tried hard enough.
Quality Of Products
One thing to really do like about Try The World is the fact that they make an effort to source their foods from small-scale producers. Try The World is very intentional about getting products from producers who actually care about what they make. This translates into the taste of the food. The Try The World team also pays close attention to the ingredients, ensuring that you're eating real foods without filler or chemicals you can't pronounce.
For example, the HLTHPUNK mustard I received was something I'd never have discovered if it were not for Try The World, and now I'm a huge fan of this brand. (Their sauces are made with organic ingredients only which is great!)
Retail Value
This Try The World box was certainly not cheap by any means. The price per item aligns with how much these products probably would have cost at the supermarket individually.
Value Breakdown: The monthly cost of this box is $39, including shipping. I received 7 products in this month's box, which averages out to a value of $5.57 per item.
Customization
The biggest downside about Try The World is that there aren't really any customization options. You basically sign up for a subscription and get what you're sent each month. During the signup process, there is no quiz or questionnaire that asks you what your dietary preferences are, or what foods you'd like to avoid.
For example, I'm not a fan of pickled things or extremely salty things, and I noticed that over the course of my 2 boxes so far, I've gotten capers and pickled mangos. Not a fan, don't like it, probably won't eat these.
This could prove to be a barrier for those with dietary restrictions, allergies, or more picky eaters.
Packaging
Overall, the packaging was fine. The turquoise box that all the food contents came in was sturdy. I had glass bottles in my box and these arrived bubble-wrapped and undamaged which was great.
I would have loved a bit more supporting content about why I was receiving the products that I got this month, or even a spotlight on a brand/company that's featured in the box. There was nothing of that sort. In an effort to save paper even, they could have just added this product description content to my dashboard, but this has yet to exist.
I certainly think including more information about each product (the origins of the products or the missions of each of the producers) would make the unboxing experience more enriching for subscribers.
---
THE VERDICT: IS TRY THE WORLD WORTH IT?
All in all, I'd say this box certainly has a unique angle and is a great way to discover new foods, but maybe not as gift-worthy as I had originally thought.
I had bought this box for myself as a way to test out Try The World and see if it was a gift worth giving to my foodie friends/family members in the future, and while they did deliver on foods from across the world, the experience from unboxing was a bit underwhelming.
The lack of information included about each product as well as the fact that the items didn't all come from the same country contributed to a few points being dinged from my overall experience.
Overall, I think the Try The World box is a good investment for people who love food, adventure, and travel, but I wouldn't say that everyone needs to try this subscription box for themselves. The monthly boxes are on the pricier side, so if you're looking for a subscription that will get you a deal on gourmet foods, this is not that box.
Also, given that there is no ability to customize or set your dietary/food preferences, unless you or your gift recipient is someone who really loves trying every type of food out there, you may not like everything you receive in the box.
Also, it is important to note that Try The World does not accommodate all dietary restrictions. What you get is what you get, for now. In this growing world of dietary preferences and food sensitivities, it's important for brands to serve additional markets out there. This might be on the horizon, but it's not here quite yet. Having said that, Try The World might not be the best box on the market for those who have special dietary needs.
If none of the above bothers you, then Try The World could be a great fit for you. The element of surprise you get with each box will certainly add a sense of adventure and discovery to your meals. And the best thing about it is you're not spending a dime on a plane ticket!
---
TRY THE WORLD IS FOR YOU IF…
You love the element of surprise
Your favorite thing about traveling is trying new foods
You enjoy all types of food, even ones you've never tried or heard of
You have no dietary restrictions
You love trying new things
WANT TO GET TRY THE WORLD FOR YOURSELF OR AS A GIFT?
Signing up for Try The World is simple. Just choose your box and subscription plan, place your order, and wait for it to arrive in the mail.
DEAL ALERT: Use this link and coupon code TAKE10 for $10 off the signature box.
DEAL ALERT: Use this link and coupon code SNACKBOX10 for $10 off the snack box.
---
TRY THE WORLD ALTERNATIVES
Universal Yums
Universal Yums is another travel-themed snack subscription box company. Each month, they'll send a box filled with sweet and savory snacks/candies from a different country. They directly source unique snacks from the featured country and provide a comprehensive, interactive guidebook inside every box. There are three box sizes to choose from and the included 12+ page booklet guides your monthly adventure with trivia, recipes, and other surprises. Previous countries featured include Italy, Egypt, Thailand, Russia, Colombia, and more. Unboxing and trying the snacks within Universal Yums boxes are a great excuse to get together with family, groups of friends, or co-workers!
Frequency: Monthly
Cost: Plans ranging from $15-39 per month, depending on the size of the box.
Ships to: Flat rate shipping to the United States, Canada, Australia, and other countries.
Skip a month feature: Yes
Click here to subscribe.
Explore Local Box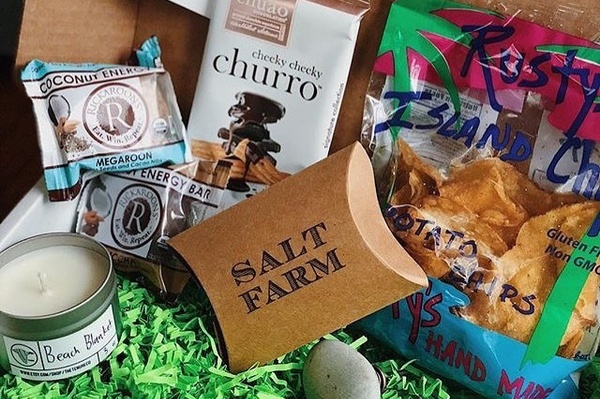 This snack subscription box is so creative and fun, especially for people who are cooped up at home but have a travel bug that never really goes away. With Explore Local Box, you can explore a new US city every month through premium, locally made food products! Boxes include food items as well as non-food items that are locally produced by small businesses and local artisans from the featured month's city. You'll also get a watercolor map as well as fun facts about the featured city.
Previous cities include Albuquerque, NM, Chicago, IL, Brooklyn, NY, Portland, OR, and way more. They also have separate gift subscriptions, perfect for all the travelers and adventure seekers you know!
Frequency: Monthly
Cost: $39.99/month, additional savings if you prepay for 3, 6, or 12 months.
Ships to: Free shipping across the United States
Click here to subscribe.
Atlas Coffee Club
Atlas Coffee Club is a travel-themed subscription service that delivers high-quality, single-origin coffee from various countries around the globe. Because their mission is to share the world of coffee, each month features a different region or country, such as Tanzania, Kenya, Colombia, Brazil, Ethiopia, Congo, Rwanda, and beyond. Each month's box includes your bag of freshly roasted coffee, a postcard from the featured country each month, as well as tasting notes & brewing tips for each batch.
Frequency: Every 1, 2, 3, 4, 5, 6, 8, or 10 weeks
Amount per shipment: Your choice of 1 6 oz bag or 1-2 12 oz bags of whole bean or ground coffee
Single Origin: Yes, exclusively.
Cost: Subscriptions starting at $14 per month for the 12 oz subscription.
Ships To: US and Canada, additional shipping cost.
Click here to subscribe to Atlas Coffee Club.
---
Looking for more snack subscription boxes? Check out a few of our favorite snack subscription boxes here!