Looking for a special and unique gift for someone who just moved into a new house or apartment? Or perhaps you're looking to treat yourself and improve your own home! No matter the reason, you're in the right place. Here, we've gathered some of our favorite home-friendly gifts and eco-friendly subscription boxes to help elevate any new home setting.
While these gifts are perfect for any housewarming party, they are especially great for men who recently moved into their new apartment or first home. They range from useful housewarming gifts to light and funny housewarming gifts, but if you want to make a lasting impression and have the most well-rounded gift, we suggest giving one of each!
Happy shopping!
---
37 Best Housewarming Gifts For Men This Year
1. RealEats
About This Box: Healthy chef-prepared meals that save you time, reduce food waste, and support local farmers? We are so there! RealEats is a meal subscription box that sources many of its ingredients from small independent farms located close to their kitchen in upstate New York and other local agricultural communities. This company wants to make it really convenient for people to get and enjoy tasty, healthy meals made with locally sourced ingredients.
First, you'll pick your plan and individually portioned meals – perfect for singles, couples and families. The RealEats team will cook and deliver your meals sealed inside BPA-free, plasticizer, and phthalate-free plastic pouches. From there, you just focus on digging into chef-prepared meals made with premium ingredients, delivered fresh to your door!
This will be a very useful housewarming gift for him, especially after a long day of work!
Frequency: Monthly
Cost: Starting at $11.49 per meal
Ships To: The US for free, additional cost to Canada.
Skip a month feature: Yes.
Click here to subscribe.
DEAL ALERT! Get 25% off your first 2 boxes with this link and promo code: WELCOME25
2. MANTRY
Mantry (The Modern Man's Pantry) is a leading food subscription tailored to men that helps its subscribers discover artisan foods. It's a foodie's dream come true. The handcrafted Mantry wooden crate gets delivered every two months and will contain six full-sized premium food products. Some of the items featured include BBQ sauce crafted in the backwoods of Alabama, award-winning Bison Jerky from the foothills of Montana, hand Harvested Birch Syrup in Alaska, and hotcake mix stone-ground in Nebraska.
There's always a theme with each box, with past themes including Pizza Party, Bourbon BBQ, and Tailgate Tour. Mantry is the perfect gift for men who want to try new food products without actually having to research or shop for themselves! Definitely one of our favorites.
Frequency: Bimonthly (every other month)
Cost: $75
Ships to: Ships within the US for $9.99.
Click here to subscribe.
3. Crowd Cow
Crowd Cow sells a variety of responsibly raised meat and seafood, including wild-caught fish, pasture-raised beef, pork, and chicken, as well as grass-fed beef, and premium domestic and Japanese A5 Wagyu beef. If he likes cooking and exploring different types of meat, Crowd Cow is the perfect housewarming gift! Plus, you'll feel good because Crowd Cow is very conscious and careful about where their meats are sourced.
Don't know where to start? Their Farmers Market Subscription is perfect for larger households who want a variety of high-quality meats to sample. This 13-pound box features an assortment of delicious, pasture-raised beef, pork, and chicken, all sourced from independent farms for $129.
With a Crowd Cow membership, here are some of the great things you'll get: Crowd Cow Membership Perks: 5% off all recurring orders & gifts, free delivery on orders $99+, early access to new products, and member-only pricing!
Click here to subscribe or shop at Crowd Cow.
DEAL ALERT! All new members will receive $30 off their first membership order. Use promo code 30OFFCROWDCOW.
4. GreenUP Box
About This Box: Help him on his mission to reduce plastic in his home and life. With each greenUP Box, you'll receive zero-waste, plastic-free products centered around a theme, like cleaning, pantry, kitchenware, or personal care. Each quarter, you'll get 6-9 artfully crafted, sustainable, and eco-friendly items to help you reduce your carbon footprint. In total, each quarterly box is valued at $100+. All items sent are vegan and cruelty-free, and often support small businesses.
Another benefit of subscribing to greenUP? The business gives 3 percent to organizations that clean up plastic in our oceans! That's a double-whammy of goodness right there!
Frequency: Quarterly
Cost: $54.95 per box
Ships To: $3 for the continental U.S. and $6 for Alaska, Hawaii, and other U.S. territories.
Skip a month feature: Yes.
Click here to subscribe.
5. Fellow Stagg Double Wall Coffee Carafe
Fellow Stagg Double Wall Coffee Carafe
6. Fellow Stagg EKG Electric Gooseneck Kettle
This gift is perfect for the new homeowner who is into the perfect cup of coffee or tea. Fellow Stagg is famous for its simple yet powerful products. They are all thoughtfully designed and well-made! The EKG Electric Gooseneck Kettle is a stainless steel gooseneck kettle that pours as good as it looks for the ultimate brewing experience. The sleek, pointed spout is designed for a powerful but precise stream for the optimal pour over flow rate, and the counterbalanced handle provides a sturdy grip encouraging a slower pour.
Even if none of the above made any sense to you, if he's a third-wave / artisan coffee lover, it will make sense to him and he will absolutely love this gift! This is the perfect addition to any stylish kitchen.
7. P.F. Candle Co. Teakwood & Tobacco Soy Wax Candle
P.F. Candle Co.'s best-selling soy candle in Teakwood & Tobacco is a cult-favorite among everyone I know, including myself! I mean, it just smells so freaking good. Their scents are not overwhelmingly strong and will make his new home smell amazing and cozy at the same time. Not to mention, they look great due to their minimalist design–perfect for that clean, simple home aesthetic!
Looking to pair this candle with another product for the housewarming gift? We also highly recommend their diffusers and anything 'Amber & Moss' scented.
BONUS: We recently discovered a genius, new way to light candles. Enter the electric candle lighter–these babies solve the problem of finicky matches, lighters, and burnt fingers! Instead of using flammable fluids or friction to start a flame, electric candle lighters contain a lithium-ion battery in a slim case. He'll just have to click it and get a small electrical arc of heat. Touch that to the candle wick and the candle will magically light!
8. Philips Hue White and Color Ambiance LED Smart Lightbulb
Mood lighting, anyone? With the Philips Hue White and Color Ambiance A19 LED Smart Bulb, he can really set the mood with 16 million colors. If he's into throwing parties, he can set up fun light colors that match his theme. On regular days, he can style up his home decor/vibe however he likes. Just waking up? There's a color for that! Winding down for bed? Choose a different color!
The coolest thing about these Bluetooth-compatible smart bulbs is that they can all be controlled with just the touch of a button on his mobile device or his favorite voice assistant. He can also control his smart lights while away from home or add accessories such as motion sensors and smart switches to further enhance his smart home experience.
9. Cork & Mill Cocktail Mixing Glass Set
Does he like handcrafted drinks? Specifically the Old Fashioned? If all of the above sound like him and he currently does not have a cocktail-making set, this will make the perfect housewarming gift.
This stylish and durable 9-piece old-fashioned cocktail kit includes a variety of bar accessories and tools, including a crystal bar glass, strainer, bar spoon, glass jigger, 4 cocktail picks, and a recipe card.
10. Craft A Brew's Home Brewing Kit for Beer
Enable him to be more than a beer drinker–turn him into a beer maker! This craft beer brewing kit by Craft A Brew turns beer lovers into beer brewers and gives them all the independence, experience, and fun that comes with microbrewing. Since this Home Brewing Kit was designed with first-timers in mind, the starter kit will also teach you about the art of brewing with the included Craft a Brew Guide to Craft Brewing.
This housewarming gift is perfect for men who are looking to potentially pick up a new hobby!
11. Corkcicle Chillsner Beer Chiller
The Chillsner by Corkcicle promises cold beer for a very long time, which is completely magical. We all know that when beer gets too warm, it's difficult to drink and nobody really wants it at all. Well, gone are the days of wasted warm beer! Just freeze the Chillsner about 45 minutes beforehand, insert into your beer bottle, and never suffer through another warm brew again. Babysit all you want–the pressure to chug a perfectly crafted brew is no more.
12. The Hop-Heads Beer Club
About This Box: If you're looking to gift an entire beer experience, Hop-Heads Beer Club will do just that. The Hop-Heads Beer Club was created for the true hop lovers out there, offering a variety of hoppy beer styles, including IPAs, Double IPAs, Session IPAs, IPLs, Imperial IPLs, hoppy Pale and Red Ales, and more. Each box comes with a total of twelve 12 oz. handcrafted beers, featuring four bottles/cans of three different hoppy beers. Most featured beers come from American craft brewers, though international brewers are sometimes featured as well.
Members will also get the Malt of the Earth newsletter featuring detailed tasting notes as well as brewery profiles, food recommendations, and beer specs from the brewers themselves. The great thing about this box is the flexibility to choose between monthly, bimonthly, and quarterly subscriptions.
Frequency: Monthly, Bi-Monthly, or Quarterly
Cost: $34.95 per box
Ships to: $15 across the US, some states excluded.
Click here to subscribe.
13. Bean Box Subscription
Bean Box is great if you want to give the gift of sampling Seattle's top-rated coffee. The roasts are crazy fresh, and often will be only a few days old when he receives the package. Bean Box offers a Coffee Tasting Subscription as well as a Coffee Bag Subscription. The Coffee Tasting Subscription allows him to discover 4 expertly-curated coffees every month. The Coffee Bag Subscription gives him artisan coffees in larger, 12 oz bags (which will yield about 24-36 cups of coffee).
We love the monthly coffee tasting plan because it's so fun to try out new PNW coffees that we'd never heard of before (they make great coffee up there).
Frequency: Monthly
Cost: Subscriptions starting at $16.50 per month for Coffee Tasting, $20-24 for Coffee Bag (price depends on frequency)
Ships To: Free shipping to US
Click  here  to subscribe.
14. Flaviar Subscription
About This Box: Founded in 2012, Flaviar is the world's largest premium spirits club, with operations in the US and Europe. Flaviar is designed for people who want to try brands and tastes beyond what's available at a local bottle shop. Their tagline says it all–For Explorers at Heart. You're not going to get steep discounts on your alcohol through membership, but you will be getting the finest and the rarest!
Coupled with educational content like tasting pairings, history lessons, and flavor profile cards, this membership is perfect for someone who wants to appreciate what they're drinking on a deeper level. Members can expect a quarterly Tasting Box (you can pick the theme of your choice) as well as a full-size Premium bottle. Other perks include free live tasting events, access to rare and private bottlings, and member pricing in their shop.
Frequency: Quarterly
Cost: The quarterly subscription costs $95 and the annual subscription costs $300.
Ships to: All EU countries and the United States. Certain states excluded.
Click here to subscribe.
15. Essentials Crate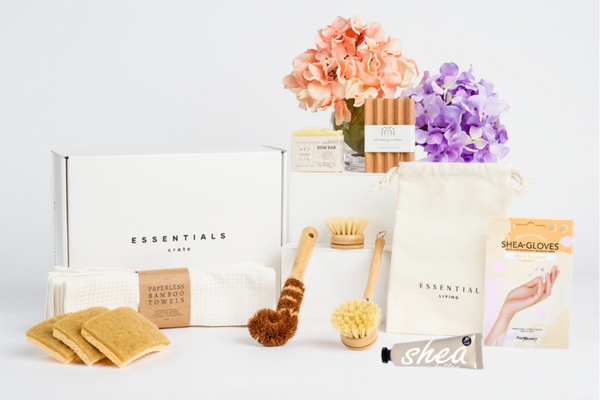 About This Box: Discover high-performance goods and cultivate a healthier, more eco-conscious lifestyle with Essentials Crate, a monthly subscription for your household and personal needs. Boxes are consciously curated with a sustainable swap and complementing premium products, designed to make a positive impact on your home and the earth.
Each box contains 3-5 premium, full-size home/lifestyle/wellness items ranging from cleaning solutions, cleaning supplies, kitchen gadgets, utensils, zero-waste alternatives, aromatherapy products, skincare products, as well as personal hygiene and oral care products. The retail value of each box is usually around $80+, so the value for the money ratio is quite good with this one!
Frequency: Monthly
Cost: Starting at $39 per month
Ships To: The US for free, additional cost to Canada.
Skip a month feature: Yes.
Click here to subscribe.
16. Mighty Nest
About This Box: MightyNest has an awesome monthly subscription (MightyFix) that delivers healthy, clean alternatives to commonly used goods. Each month, you'll get one hand-picked healthy, green product that you'll be able to use in your everyday life. Products include nontoxic cleaning products, food storage, clean body care, and solutions to wean off using one-time plastic or disposable products. All products are selected to expand your impact.
Your subscription will also come with resources, support, and insights throughout the month on how to implement these small but mighty changes. For just $11/month, you'll be able to tackle one healthy change each month with green goods that are high quality, useful, and fun. The more months you subscribe for, the more good changes you'll be able to commit to!
Frequency: Monthly
Cost: $15 per month, additional savings if you opt for the annual membership.
Ships To: The US for free, additional cost to Canada and Australia.
Skip a month feature: Yes.
Click here to subscribe.
DEAL ALERT! Use the above link and promo code MIGHTYNOW to get your first month for only $3.
17. Blueland
About This Box: Blueland believes that a "cleaner planet starts at home" and that we can all make an environmental impact by lessening our plastic waste and being mindful about the products we purchase and use daily. The cleaning products you'll get are all non-toxic, cruelty-free, hypoallergenic, vegan, and gluten-free.
First, you'll pick which product kit you'd like to purchase out of a multitude of different options so you can find the one that best fits your cleaning style. Then, choose how often you'd like refills to be delivered to you. Lastly, sit back and relax as your cleaning products get shipped to your doorstep! Need a refill? Just hop on their website to re-up (you'll pay significantly less than you did for your starter kit).
All in all, Blueland offers a simple line of non-toxic cleaning products that get the job done while smelling nice and reducing waste.
Frequency: Every 1, 2, 3, or 4 months
Cost: $32 to $74 for your first shipment; subsequent shipments are cheaper per month. Products are available for one-time purchase or subscribe and save 10%.
Ships To: The US for free on orders $35+, additional charges to select countries
Skip a month feature: Yes.
Click here to subscribe.
18. Wusthof Stainless 8-Piece Mignon Steak Knife Set
What household couldn't use an upgrade on their steak knives? Because everyone who eats meat enjoys a more precise cut on their steaks, the Wusthof 8-piece Mignon Steak Set makes a great housewarming gift for men.
Wüsthof's elegantly boxed set of stainless steel steak knives compliment fine table settings and are durable enough to be used for everyday occasions as well. Each knife is carefully crafted for precise heft and balance and they all come in an artisanal olivewood box for presentation and storage.
19. Ember
He will never have to deal with another lukewarm cup of coffee or tea ever again! Ember's smart mug allows you to control the temperature of your beverage with your smartphone. Ember will keep your drink as hot as you'd like for up to 1.5 hours on a single charge—or all day on the charging coaster. Choose the exact temperature you prefer (between 120°F – 145°F).
This is one of the most innovative and useful housewarming gifts on the market this year, perfect for that new apartment/home!
20. Nut and Dried Fruit Gift Basket
This edible housewarming gift will certainly help him wow his housewarming party guests of the night! The signature Oh! Nuts Gift box is filled to the brim with 12 varieties of healthy, high-quality Grade A dried fruits and nuts. Replace the traditional candy, chocolates, and baked goods with healthier, trendier vegan treats. I mean, just like his new house/apartment, onto bigger and better things now!
21. YETI Tundra 35 Cooler
If you are looking for the ultimate splurge for your male friend, brother, or whatnot, this is it. The YETI Tundra 35 Cooler is an item that many men yearn for in their lives, but not many pull the trigger on due to its heftier price tag. Bue one thing is for sure, with this cooler, his drinks will stay cold for days no matter where he is–hanging out in his man cave, barbequing in his backyard, picnicking on the beach, or camping somewhere in the mountains.
If you are generous enough to get this housewarming gift for him, this cooler will most definitely be the star of the show. They come in a variety of colors so you can get the one that matches his new house or his personality the best.
22. Hot Sauce Making Kit
If your husband, boyfriend, brother, or dad is hooked on hot sauce, give him the chance to make his own with this kit. This Hot Sauce Making Kit is like a science experiment for adults, except everything's edible and will probably end up giving you a burning tummy. But we say that in the best way possible! This is a super giftable product and if you're trying to surprise that special new homeowner with a DIY present, this is the one.
This DIY hot sauce kit includes 5th Generation heirloom peppers and spice blends that are all-natural and non-GMO. Customize your hot sauce or create your very own Hot Ones dab with a gourmet spice blend including ancho pasillas, chipotle, habanero and ghost peppers. This kit also comes with recipes and flavor guides, custom label stickers, squeeze and glass bottles, and a bottling funnel. It's equal parts creative and spicy!
23. Lodge Cast Iron Skillet
Does this guy love to cook? A Lodge cast iron skillet is a kitchen staple for male chefs and cooks-in-training. Despite its super affordable price tag, this rugged, pre-seasoned pan really packs a punch. It heats up evenly and really locks in the flavor of what you're cooking. It's available in lots of different sizes, so you should be able to find one that fits your guy's needs. You really can't go wrong with Lodge!
24. Himalayan Salt Block Set
Mined in the Himalayas from 100% pure Himalayan Salt boulders, the Himalite salt tile is the perfect kitchen or outdoor grill station cooking accessory. This salt block set comes equipped with a convenient metal carrying tray for easy transfer between cooktop and table. It can also be used as an all-natural serving dish that he can really impress his guests with!
25. BucketBall
If he has a spacious backyard or a dedicated man cave, this is one of the greatest gifts you could consider getting him. If not, no problem! Bucketball is the perfect thing for those festivals, summer beach days, and barbeque picnics! If he loves beer pong or even just challenging his friends, he will definitely put this thing in use.
BucketBall comes with two weighted balls, a convenient carrying pouch, and 12 big buckets in two colors. This gift is such fun entertainment and will surely be a hit wherever he brings it.
26. Escape The Crate Puzzles Box
About This Box: Find the clues, crack the codes, unravel the riddles, solve the mysteries, Escape the Crate! Escape The Crate brings the escape room experience into your own living room. Every other month, you'll get a different time-traveling adventure delivered right to your doorstep. Each box contains a 1-hour long game and includes items like ciphers, letters, sleuthing tools, puzzles, and more. The best part is the value; the cost of one Escape The Crate box is a fraction of the cost of 1 entry to a regular escape room! He'll have so much fun working with his friends to solve riddles and conquer puzzles.
We love gifting activity boxes to people who don't want anything because it's like gifting them a few hours of unforgettable entertainment and memories!
Frequency: Every other month
Cost: $29.99 per box, but discounted if you prepay for a longer membership
Ships to: Ships free to US, additional costs for Canada, the United Kingdom, Australia, and other countries.
Click here to subscribe.
27. House Plant Box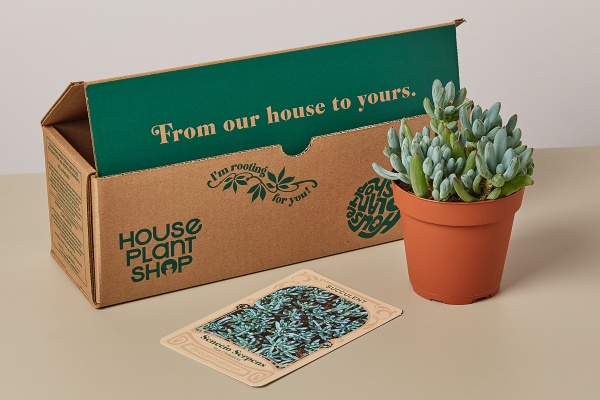 About This Box: If he just moved in, chances are he's going to need some greenery to spruce up his place. House Plant Box delivers a custom-crafted collection of house plants and house plant products in a simple monthly package. The House Plant Box team uses their large array of plants in their California greenhouses to put together a uniquely themed box every month.
For the subscription, you can choose between receiving a house plant monthly or quarterly. You can also choose the type of plan box you'd like to receive, from the large indoor plant box, air plant box, aquatic plant box, cactus box, pet-friendly box, and much more!
Frequency: Monthly or Quarterly
Cost: Starting at $15 per box
Ships To: Only ships within United States; plants are carefully packed with proper protection to ensure your plant arrives safely.
Skip a month feature: Yes.
Click here to subscribe.
28. Papaya Paper Towels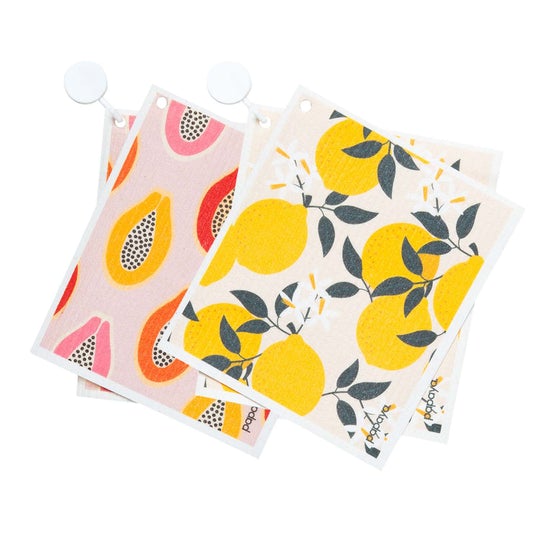 About This Box: A reusable paper towel that replaces 17 rolls, what! That's right, Papaya Paper Towels is on a mission to replace wasteful paper towels, bacteria-ridden sponges, and non-absorbent, laundry-hungry dish towels. All with one beautiful, reusable, compostable sheet. Unlike dish towels, these zero waste paper towels are all-natural, antibacterial (so they don't get that mildew smell), and even compostable. They're also way more absorbent than average towels which tend to just move the mess around.
You can build a subscription box filled with your favorite designs and opt to get your towels delivered every 2, 3, or 4 months. Cancel anytime!
Frequency: Every 2, 3, or 4 months
Cost: $16.50 per shipment
Ships To: The US for free, additional cost to Canada.
Skip a month feature: Yes.
Click here to subscribe.
29. Roomba 692 Robot Vacuum
A robot vacuum is the ultimate life hack for the guy that doesn't like to clean. With the Roomba 692, it doesn't matter if they clean or not, because the house will be effortlessly cleaned for him! This robot vacuum cleaner vacuums, sweeps, dry mops, and removes pet hair all while he's out or doing bigger and better things. He can schedule cleaning through his phone or even tell Alexa to activate the Roomba.
It's truly a clean home superpower! Best of all, he will feel like he's living the smart home dream with his new robot helper at his service!
30. NIPYATA! Boozy Piñata
NIPYATA! Booze Piñatas are probably the most fun gift on this list, perfect for people who love to enjoy a good drink and want to have some fun trying to get to their alcohol! These unique piñatas are filled with mini bottles of alcohol, candy, and other fun surprises, making them a perfect addition to any party or celebration.
I mean, can you think of a more unique way to break in a new apartment or home? We can't!
Each NIPYATA! Booze Piñata is handmade and comes in a variety of fun shapes and themes, including toucans, champagne bottles, cacti, unicorns, and even a giant taco. You can even pick them up in special numbers, such as "21", "30", and "40" — for all those special milestone birthdays!
In addition to the mini bottles of alcohol enclosed in a piñata, each NIPYATA! Booze Piñata kit comes with a blindfold, a stick, a hanging rope, and party rules (that tell you the blindfold is mandatory!). All party guests are sure to have an amusing time with this one!
If you're looking for a smaller, low-key gift, NIPYATA! also offers drinkable greeting cards. Depending on what your recipient likes, you can choose from: Tito's Vodka, Fireball, Johnnie Walker, Jack Daniel's, Jameson, Baileys and more. These are also a unique and memorable addition to any celebration or special occasion.
31. Craftly DIY Whiskey Kit
The Craftly DIY Whiskey Kit is the perfect gift for any guy who loves to enjoy a good whiskey and loves getting creative too. This unique kit includes everything you need to make your own delicious and personalized whiskey at home.
The Craftly DIY Whiskey Kit comes with two 350mL glass bottles with wooden corks, six stainless-steel whiskey cubes, instructions, and recipes to guide you through the process. The kit also comes with nine botanicals: American Dream whiskey chips, American Sweetheart whiskey chips, dark chocolate whiskey chips, orange peel, chai mix, cinnamon, cocoa beans, coffee beans, and bird's eye chilis. All you need to do is supply the alcohol!
One of the best things about the Craftly DIY Whiskey Kit is that it allows you to customize your whiskey to your personal tastes. Want to add more chili? Add to your heart's content! You can experiment with different types of grains, spices, and flavors to create a unique and personalized blend that is perfect for you.
In addition to being a fun and creative activity, the Craftly DIY Whiskey Kit is also a great way to save money on expensive store-bought whiskey. By making your own whiskey at home, you can enjoy a high-quality drink at a fraction of the cost.
We think this unique gift set is perfect for birthdays and holidays (or any special occasion really!), and is sure to be a hit with anyone who loves to experiment with new and adventurous flavor blends.
32. Mulled Wine Cocktail Kit
Europeans are experts at enjoying tasty and warm boozy drinks during the cold winter months, and now you can gift the Europe lover in your life the ultimate European winter experience with this mulled wine kit by Cooking Gift Set Co.!
For centuries, warm mulled wine with its rich flavor and spices has been a seasonal delicacy, and this cocktail kit has everything you need to start preparing batches of your own.
Being mulled wine lovers ourselves, we think this is an absolutely perfect gift for holiday parties, happy hours, or a cozy night by the fireplace. With this kit, you'll have everything you need to tailor your own custom batches of mulled wine to suit your preferred blends and spices.
The kit includes a mesh spice infuser bag, stainless steel zester, mulling ladle, cinnamon sticks, whole anise stars, dried orange slices, cardamom pods, whole nutmeg, whole cloves, as well as instruction and recipe cards. The amount of spices you get are enough to infuse at least eight bottles of wine! Now that's a good value.
33. Amazon Gift Card
Honestly, you can't go wrong with an Amazon Gift Card. For guys that have everything they need for their home/apartment already–this is a less unique, but safe, gift choice.
---
Other Housewarming Gifts For Men
---
And that concludes our list of housewarming gifts for men. We hope you were able to use this gift guide to find the perfect home addition for the man who's recently moved in somewhere new!
Looking for more subscription boxes for men? Check out this post on our favorite subscription box gifts for men here.
Before you go, stay in the know! Be sure to subscribe to our monthly newsletter to gain access to exclusive subscription box deals, promos, and spoilers that are too good to publish online!